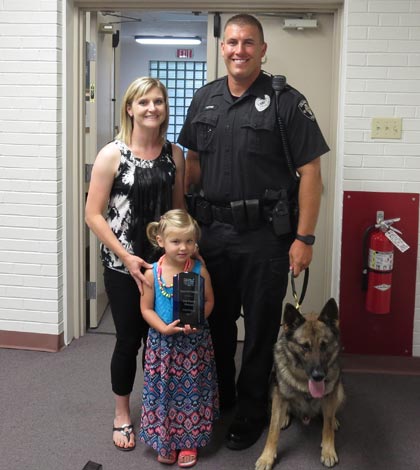 The Columbia City Council on Monday gave kudos to Columbia Police Officer Zack Hopkins and his K-9, Daggo, who took second place overall at the recent United States Police Canine Association K-9 Field Trials hosted in Columbia.
"It was a great success," said event organizer Hopkins, who thanked Chief Jerry Paul for his assistance throughout.
"I remember, when I asked if I could host this, (Chief Paul) had no idea what he was getting himself into. But he gave me free reign to get everything done, gave me his absolute support," Hopkins said.
He added his appreciation to the city council for the permissions they granted for the use of primarily Bolm-Schuhkraft Park for the three-day event, as well as the public works department, community relations coordinator Sue Spargo and the Play Foundation.
"We had a phenomenal turnout on Saturday night at the public demo," he said. "Everybody said it was an awesome idea, an awesome event.
"I had a successful trial, I guess you could say. I finished second overall out of 21 dogs, finished second in obedience, third in subject search, first overall in teamwork — myself and two Cahokia officers were the teammates.
"So, thank you very much for allowing me to do this."
Hopkins also heaped praise on his wife, Kathy, for her patience while he worked long hours to prepare for the event. She even pitched in herself.
"Every officer and K-9 handler was just thrilled with our city, the things Officer Hopkins set up, the after-hours at 11 South… just, kudos to you, you did a great job," said councilman Kevin Martens, who helped out all three days, to Hopkins.
Also at the meeting, the council gave approval to offer $40,000 to S&C Management Services of St. Louis, the owner of the trailer park at Centreville Avenue and South Main Street, to purchase a right-of-way for future improvements to Centreville Avenue.
No offer has been made to or accepted by S&C. Additionally, two trailers within the proposed right-of-way would be affected.