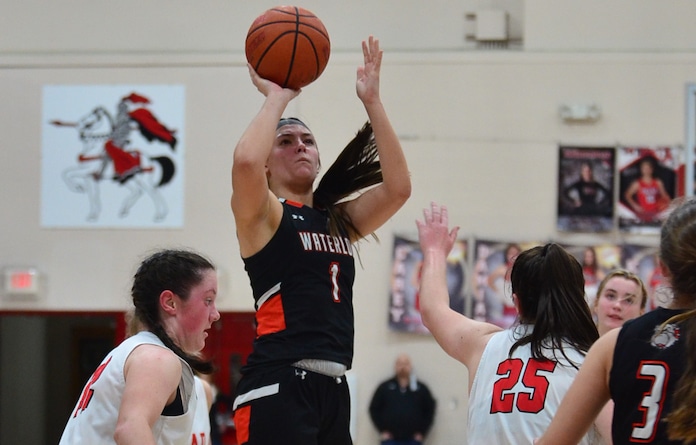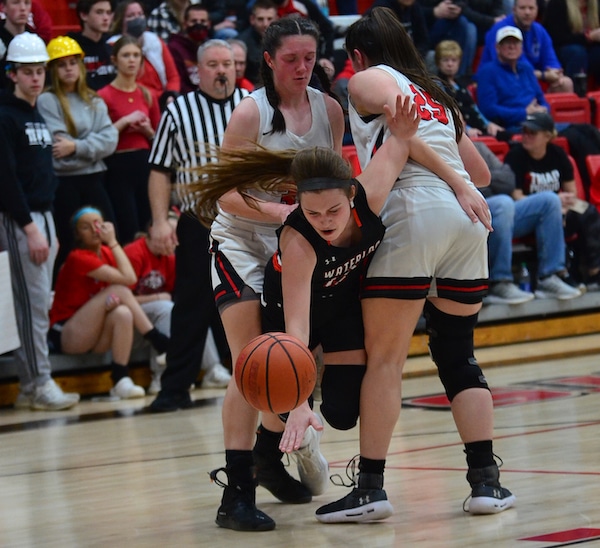 The Waterloo High School girls basketball team was seeking the program's first regional championship Friday night at Triad.
It looked like the Bulldogs were well on their way to making history, but the Knights ultimately had other plans.
Waterloo's season ended in heartbreak, as Triad won 55-53 in overtime.
"It was a tale of two halves," first-year Waterloo head coach Jake Schneider said.
The Bulldogs opened the game on a 10-2 run, and back-to-back three-pointers put them up 25-12 early in the second quarter. Waterloo led 34-22 at halftime, stunning Triad's home crowd.
"We came out on fire," Schneider said. "The first half was probably the best basketball we played all season – especially on offense. We felt that we could've actually been up more at half if we had not let up several second chance scoring opportunities. We were well aware the game was not over and put focus on finishing the job."
The Knights were able to convert some points off turnovers in the second half, however, climbing back into the game. Waterloo's lead was whittled to 43-36 entering the final frame.
Triad continued its momentum, energized by its crowd, to trim Waterloo's lead to 43-41 midway through the fourth quarter. The Bulldogs looked tired at the end of regulation, which ended in a 45-45 tie.
"They came out in the second half and raised their physicality," Schneider said. "It started to wear on us by the end of the third quarter and we struggled to take care of the ball. It was tough being on Triad's home court. It felt like their crowd willed them back into the game. We started to run out of gas and couldn't quite make it to the finish line."
The Knights emerged victorious in OT, ending Waterloo's season at 25-7. That is the most wins in a season for any WHS girls hoops squad.
Triad (21-9) won three of four regular season matchups between the conference rivals despite shooting just 2-for-19 from three-point range and 9-for-17 from the free-throw line.
Sam Lindhorst led the Bulldogs with 19 points. Norah Gum added 18 points. Both are juniors and will return next season – most likely with chips on their shoulders from this bitter defeat.
"It was a position that none of us had been in before and we learned a lot of the critical areas we need to improve," Schneider said of his team's postseason experience. "Getting to play in two regional overtime games was valuable experience for a young team and a young coach. We will remember the feeling it gave us and use it to fuel us this offseason. The loss will sting for a long time, but we can't let it take away from what we accomplished this season. This is still the best overall season our program has ever seen."
Gum averaged 18.2 points and 9.4 rebounds per game this season. Her 564 points this season were the most for any player in program history.
Lindhorst averaged 13.7 points, 3.87 assists and 3.47 steals per game.
"Norah and Sam put together two of the best individual seasons in program history," Schneider said.
With those two returning next season in addition to youngsters such as sophomore Liv Colson (7.8 points, 4.8 rebounds per game) and freshman Kristin Smith (5.3 points, 4.5 rebounds per game), all eyes are on the future.
"It was an incredible ride and I look forward to the future," Schneider said. "We're going to go outwork everybody else this offseason and come back even stronger."