Waterloo trailer court condemned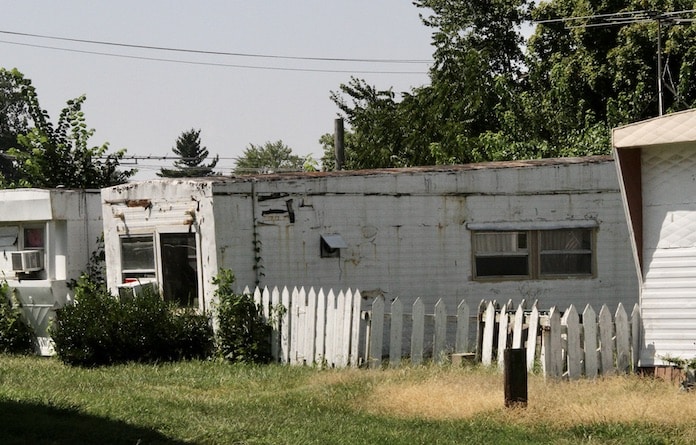 An aging mobile home park and apartment complex seemingly abandoned by its owner on West Mill Street in Waterloo haves been vacated following a months-long process involving the city.
"Any place that they went would be better than where they were," Waterloo Mayor Stan Darter said of the residents of those properties in referencing such "deplorable" conditions as insect infestations, collapsed ceilings, broken windows and leaky roofs.
The properties – a three-unit complex at 500 W. Mill Street and seven mobile homes at 506 W. Mill Street – were part of Greenbrier Trailer Court, with the owner listed as West Mill Properties LLC.
The registered agent on file for this company is Edward A. Gilkerson of St. Louis County, with company contacts listed as Robert J. and Taryn Zurfluh of St. Louis.
Tenants of these buildings had water service provided as part of their monthly rent, Darter said, while they paid for electric and gas on their own.
Darter explained that the property owner stopped paying its monthly water bill to the city early this year, after which unsuccessful attempts were made to collect payment.
In the meantime, Darter said generosity from such organizations as House of Neighborly Service, Society of St. Vincent de Paul and Western Egyptian Economic Opportunity Council covered the tenants' water bills for a couple of months.
By June 23, however, the money owed by West Mill Properties LLC for non-payment of water bills had reached a point that the city decided to file a lien against the property owner and shut off water service.
"We kind of thought at that time the people would find another place to go, but then we realized some wouldn't," Darter said.
There was some confusion among residents that the lack of water service was due to a city water meter issue that would be fixed, Darter said, so the city stepped in to set the record straight.
City officials supplied cases of drinking water to existing residents of Greenbrier Trailer Court and explained that their lack of water sercvice was due to non-payment by the property owner. The city also told the residents at that time that it didn't expect water service to be resumed and that they should look for a new place to live.
"We were being as gentle as possible," Darter said.
After a few weeks passed, the city noticed some residents were still living in their trailers or apartments. So on July 21, with still no contact with the property owner, the city gave notice to all residents of Greenbrier Trailer Court that the occupancy permits were revoked.
Orange stickers on all of the impacted buildings state "condemned as unfit for human occupancy or use."
By that point, existing residents of the trailer court had been without water service for about a month, Darter said.
"The city realized that it can't in good consicence allow that to continue," Darter said. "You have to, as a landlord, provide water. You don't have to provide gas. You don't have to provide electricity. That is part of our ordinance. So, we revoked the occupancy permits for everything."
Eventually, all of the residents of Greenbrier Trailer Court had been relocated.
Some of the trailers at 506 W. Mill Street date back 50-60 years, Darter estimated, and are no longer suitable for residency.
The city has sent notice to the property owner, ordering all associated structures to be brought up to code or cleared away.
With no response from the owner, the city is now in "wait and see" mode on the property.
The likely course of action is that this situation will go to court and the city may be granted permission to clean up the property.
Darter stressed, however, that "it's not the intention of the city to own that property."
Coincidentally, the same people listed as part of West Mill Properties LLC are also involved in Truman Main Properties LLC, which owns a trailer court in Salem, Mo. That mobile home park has been without water service since May.