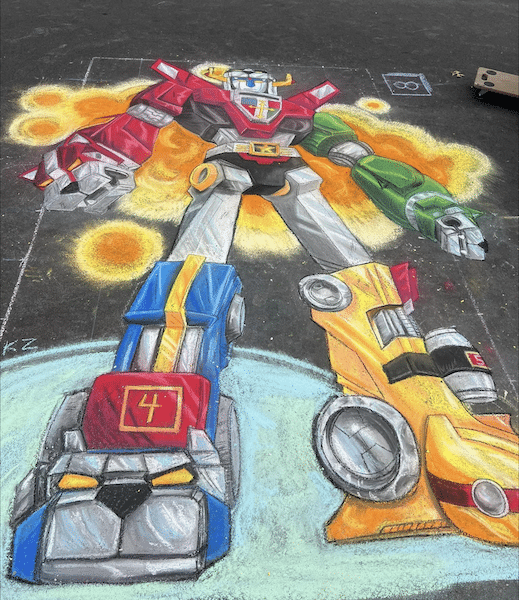 Last Saturday saw a crowd of local artists gather in downtown Waterloo, covering a block of Mill Street in chalk art for the second annual Chalk-A-Lot which proved even more successful than the first.
The event featured a number of artists, from teenagers to adult professionals to young children eager to scribble along the pavement.
This year's first place winners included Krona Newton in the amateur ages 13-18 division, Jamie Lanman in the amateur ages 18-plus division, Daniel Cassen in the pro division and Katherine Ziebold, who won Best in Show and the People's Choice Award for a Voltron piece.
Chalk-A-Lot is organized by the Monroe County Arts Alliance, a collective of artistic individuals and performance groups in the county including the Kaskaskia Trail Chorus, Monroe Actors Stage Company and several others.
Marcia Braswell serves as president of the Monroe County Arts Alliance, which formed in 2015 as a means of networking and promoting the work of each group.
Braswell previously served as longtime music teacher in the Valmeyer School District. She spoke about the work of the Arts Alliance and the importance of highlighting the artistic talent of Monroe County residents.
"The arts have been a part of my personal background for a very long time," Braswell said. "I just feel that the benefits of the arts in general in people's lives is immeasurable. You can't put a price tag on anything like that, the benefits that one receives from being a participant in a music group, being a visual artist or a dancer or an actor."
She noted that, among the groups that make up the Arts Alliance, music and theatre are especially strong in the county – though the visual arts don't seem to be as prominent.
With this in mind, she said she was happy to help raise awareness of the visual arts with an event like Chalk-A-Lot.
While Braswell and several other Arts Alliance members have served on the committee to organize Chalk-A-Lot for the past two years, she credited Don Carrington for presenting the idea to the group to begin with.
Carrington spoke about his inspiration for the event, which he said came from his hometown of Jasper, Ind.
"Growing up, my small town always had community events, large, small, whatever the case," Carrington said. "The community I'm from, Jasper, on Facebook year after year I kept seeing this, I forget what they called it, but it's similar to Chalk-A-Lot, but they do it on their sidewalk in their downtown area. They just had people every year gloating about it, talking about it. It seemed like a great community event."
Carrington noted that he himself isn't much of an artist, and he insisted that much of the credit for Chalk-A-Lot should go to the "muscle and planners" in the Arts Alliance who were able to take his idea and get it organized.
Braswell spoke quite positively about the event, saying the turnout for last year's event was much better than expected and was only improved upon this year, adding "it's so much fun to just watch it all come to life."
She expressed appreciation for the support shown by Chalk-A-Lot's sponsors as well as Monroe County and City of Waterloo.
Braswell went on to say the turnout among younger artists in the community was particularly impressive this year.
"The other really cool thing about it is because we have it divided into different categories for age groups, we saw that the total number of participants increased this year from, I think, 34 last year to 42 this year," Braswell said. "The growth is great, and also the growth in that amateur category is great because it shows there's a lot of interest in the arts from the young people."
Monroe County Commissioner Dennis Knobloch works with the Arts Alliance given his performance with the Bud Light Brigade, Band Room Brass and Valmeyer Community Chorus.
He was one of several individuals pushing to get Chalk-A-Lot off the ground, thanks largely due to his previous experience participating in a chalk art event with his son in Highland.
Knobloch also spoke highly about the turnout of both Chalk-A-Lot events.
"I personally am just overjoyed at what has happened with the event," Knobloch said. "Last year we really didn't know what to expect since it was a first shot, and we were happy with the way things went last year but even more happy to see that the event has not only survived but it has grown."
He placed particular emphasis on the family element of the event as folks were invited to draw in a designated open space along Mill Street.
"We wanted some kind of a family event that would provide some entertainment and fun for the entire family," Knobloch said. "It showed up even more this past weekend than it did the first year. Hopefully we can continue to make it grow and be even better in years to come."
Both Knobloch and Braswell expressed an eagerness for the event to return next year with even more lessons learned and improvements made.
Braswell also teased that the Arts Alliance is currently planning a different event in Columbia for next June.
Carrington also expressed his pride at the community support and turnout for Chalk-A-Lot, similarly noting how excited he is to get the event organized yet again next year.
Carrington added he has high hopes for the event's growth in the years to come, suggesting he'd love for it to experience the same sort of development as Waterloo's Pumpkinfest.
"My overall goal is I want every street downtown surrounding the courthouse, I want it all blocked," Carrington said. "I want art on every street parking space, more vendors, more music, more. But the overall goal is it has to be something free. Our sponsors are the ones making this happen."
For more information on Chalk-A-Lot and the Monroe County Arts Alliance, visit monroecountyarts.org.
To see more artwork from this year's Chalk-A-Lot, visit the Chalk-A-Lot Facebook page.