Waterloo icon leaves legacy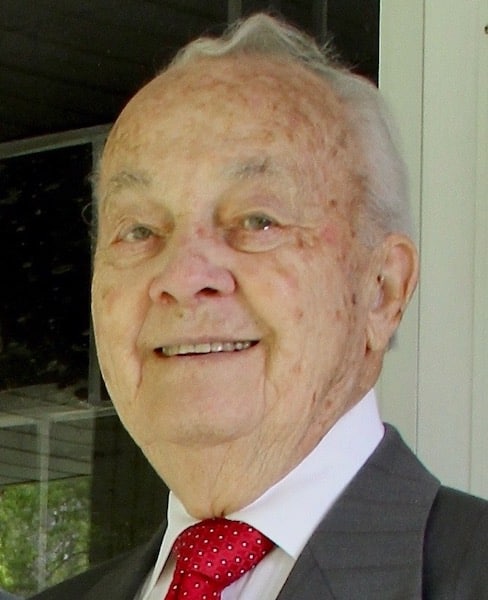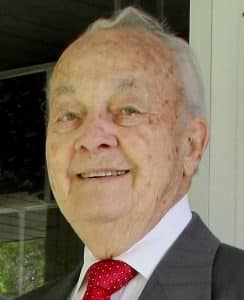 Waterloo lost a much loved and familiar face last week with the passing of Roy J. May, a family man, longtime State Farm insurance agent, past American Legion commander, and all-around pillar of the community.
May lived to the impressive age of 98, with many children, grandchildren and great-grandchildren surviving him.
Two of his daughters, Laura Constantine and Lissa Mudrich, spoke about his life and the legacy May leaves behind.
Constantine noted that her father was born to an Irish family in the Great Depression-era and likely faced his fair share of hardships early in life.
May certainly showed a great deal of persistence from a young age, leaving home at 15 to live and work in a tavern through high school.
May's education was cut short due to his enlistment in World War II. During his service, the May family unfortunately suffered one fatality, one severe injury and one captured in the war, so he was sent back home to Monroe County.
Shortly after his return, May would begin his exceptional tenure as a State Farm agent, though, as Constantine described it, that career began rather by happenstance.
"The State Farm manager came to interview his dad," Constantine said. "My grandpa said to dad, 'Why don't you do this? Why don't you be the State Farm agent?'"
May was intensely committed to his job, managing to earn the respect of other insurance agents across the country as he acquired numerous awards and recognitions within the company.
Mudrich remarked that the president of State Farm ought to attend his funeral given how much of himself he gave to the company over the years.
May showed a tremendous work ethic and determination throughout his career.
Constantine recalled a story he once told about stepping into a local tavern to get dinner for his wife Norma, only to be met by his manager who was all-too-ready to berate him for drinking while he still needed to fulfill a weekly quota for life insurance applications.
When May opened his briefcase to show that he had procured seven life applications earlier that day, his manager happily left him to bring a hamburger home to his wife.
Many in the community are sure to know May specifically because of his job. He has long been well-regarded in the area for personable service, perhaps best characterized by the "happy birthday" phone calls he would make to each of his clients every year.
Even with this dedication to his work as an insurance agent, May was able to share a great amount of love for his family.
Constantine described how he and Norma met on the bus when they were kids, but their love might well have truly started when they encountered one another in eighth grade and Norma was out playing and bailing hay with her family – only for May to stop by with his family and gift her a rosary.
His next big gift to Norma, as Constantine recalled, was a fancy ball-point pen.
As the two got older and eventually married, the Mays made their home in a small house in the country, though with a third child on the way, May would suddenly come home one day to announce he had purchased a house large enough to more easily accommodate the family they were hoping for.
That residence sits at the corner of a heavily traveled area at the corner of Route 3 and Country Club Lane/HH Road in Waterloo.
Both Constantine and Mudrich described the immense strength of Roy and Norma's relationship.
"Mom and dad were such a team," Constantine said. "Such a team. And mom was a harder task manager than the manager. She was really on it."
Of course, Roy's familial affection was spread well beyond just his wife, as he would come to have seven children, 11 grandchildren and seven great-grandchildren – all of whom he loved with all his heart.
Mudrich recalled various memories with the family when she was younger. Among them were the many times they would drive out to gather wood for their stove, cheerily singing showtunes the whole drive.
"We would get in that Jeep and we would drive to this property, and we'd sing at the top of our lungs, dad right along with us," Mudrich said. "We'd sing from musicals, we'd sing from 'Mary Poppins,' 'I Love to Laugh.'"
She further described how Roy and Norma were always happy to welcome their children's friends to dinner, though, as Mudrich noted, adding another mouth or two to a nine-person dinner wasn't too hard.
Constantine also painted a picture of their childhood, from countless evenings started with church and concluding with a visit to the movies to random excursions prompted by Roy's tremendous sweet tooth for ice cream and root beer floats.
Roy was incredibly eager to spend time with his grandchildren.
Mudrich recalled how, as he worked at home, Roy would sit himself down in the door frame of the room where the babies were crawling around, stretching out his legs to corral them and watch over them while he worked.
He was also, as Constantine noted, a very proficient napper who was able to instill his love for brief midday naps to many of the younger Mays.
"He could fall asleep and be back at it in 10 minutes – just pop up and go," Constantine said.
Roy's love for family carried on to his great-grandchildren, and he was quite happy to be able to get to spend time with them.
"Seven is their big number, and in March their seventh great-grandchild was born," Constantine said. "And I said to him, 'What's your lucky number?' He said, 'seven.' And I said, 'Well guess what happened today? Number seven was born.' And he got the biggest grin."
Constantine and Mudrich further described Roy's many facets, including his interest in traveling, a fascination with windup toys and his love of reading.
While regarded as an impressive figure in the community, Constantine and Mudrich said they didn't quite recognize how lucky they were to have such a man for a father when they were younger.
"When you are the daughter, you just assume everybody's got a dad like that," Mudrich said.
Naturally, many in the community have reached out to offer condolences and praise upon Roy's passing.
Among them is Harrisonville Telephone Company President and CEO H.R. Gentsch, a client and longtime friend.
He spoke to Roy's character as a family man, leader and role model, further describing him as a "gentleman's gentleman," who was always upbeat and enjoyable to be around.
"He was a Waterloo icon," Gentsch said. "There will never be another one like him."
Another friend of Roy's, current Waterloo American Legion Commander Clyde Heller, attested to his identity as a veteran who believed in the fundamental ideals of America.
"I'll write him as a true patriot," Heller said. "Very dedicated to his community. Dedicated to the American Legion."
Roy lived for nearly a century and touched the lives of generations of Waterloo citizens – either as an insurance agent, family member or friend.
With a great outpouring of love and respect from the members of the community he called home, as well as the fond words Mudrich and Constantine used to describe their father, it's clear he will be missed for years to come.
"My dad was full of life. He woke up early, and he couldn't wait to start each day," Mudrich said. "He loved life. He didn't smoke, he didn't drink, he didn't gamble. He said if you don't do those three things, you could be a millionaire. He had a really big laugh, and a great sense of humor. And he had his sense of humor up until the very end."