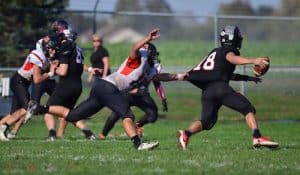 Still coping with the recent death of a senior defensive leader, Waterloo came within a minute away of winning its first football playoff game in 22 years on Saturday. In the end, it was just not meant to be.
Waterloo was considered a heavy underdog in this Class 5A "Battle of the Bulldogs" at Mississippi Valley Conference rival Highland, but its defense held strong for much of the game.
Highland entered its home game ranked No. 2 in the state, but that didn't faze the orange-and-black Bulldogs from Monroe County. The Waterloo defense stopped Highland on a fourth down attempt from the 3 yard line to open the game.
Still in the first quarter, Waterloo placekicker Tyson Roedl connected on a 28-yard field goal to put the 'Dogs up 3-0 early on.
That lead would hold true through halftime and even into the fourth quarter, as Waterloo stopped the high-powered Highland offense time and again. Highland failed to convert on a gutsy fake punt attempt late in the first half.
With Waterloo still ahead 3-0, a promising Highland drive ended with just a field goal following a dropped pass in the end zone. The game was tied 3-3 with 4:45 remaining.
A big kickoff return from Waterloo gave the team a chance to take the lead late and the 'Dogs capitalized with a Roedl field goal to make it 6-3 with just 1:13 remaining.
But Highland had some late magic of its own, as running back Brady Feldmann scored on a 24-yard pass from Garrett Marti to put the home team up 10-6 with just 24 seconds left in the game.
Waterloo was unable to pull off a late miracle and ended its emotional season at 5-5.
After the game, several players and coaches from Highland approached Spencer Woodall, the younger brother of David Woodall — who recently took his own life — and offered long embraces. An orange No. 73 was painted on Highland's field in honor of Waterloo's fallen teammate.
The entire Waterloo coaching staff sported shirts with David Woodall's No. 73 prominently displayed on Saturday.