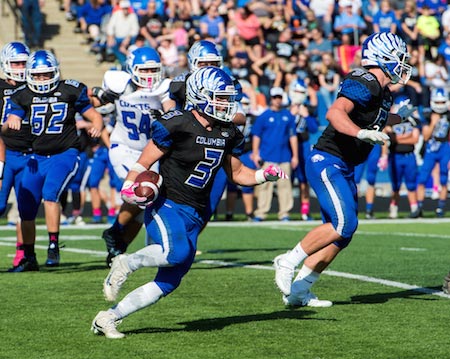 Columbia used a familiar recipe to cook up a first round playoff football win at home on Saturday.
Eagles quarterback Greg Long threw for three touchdowns and ran for another. Running back Colton Byrd rushed for one TD and caught another. Jordan Holmes caught a TD pass and scored another on defense in the Eagles' 57-30 win over Greenville.
Oh, and the Columbia defense imposed its will on a high-powered offense once again as well.
Just 10 seconds after Long scored on a quarterback sneak, Holmes snatched a Greenville pass and ran it back 24 yards for the score, In the blink of an eye, the Eagles led 14-0.
Byrd soon added a 75-yard TD run to make it 21-0 before the Comets had known what hit them.
Following a Greenville score, Columbia star linebacker Owen Suedkamp blocked a punt for a safety to put the Eagles up 23-8 at 9:17 of the second quarter.
The big plays didn't stop there for the Eagles, as Holmes caught a 64-yard pass from Long to make it 30-8 with just more than five minutes left in the first half.
With only 51 seconds remaining in the first half, Jared Germain raced into the end zone on a 12-yard pass play to make it 37-8 at halftime.
Columbia (10-0) continued to dominate in the second half, winning 57-30. Long kicked a 48-yard field goal in the fourth quarter to the delight of the blue-clad Eagles faithful.
Long finished with 13-for-21 passing for 270 yards and three TDs in addition to his rushing score and an interception on defense.
Byrd rushed for 158 yards and a score; Holmes finished with 139 yards receiving and a TD in addition to his "pick six" on defense.
Suedkamp led the defense once again with 10 tackles. Dylan Hildebrand also had 10 tackles for the Eagles, who will host Canton in a second-round Class 4A playoff game next Saturday at 2 p.m.