Waterloo, contractor at odds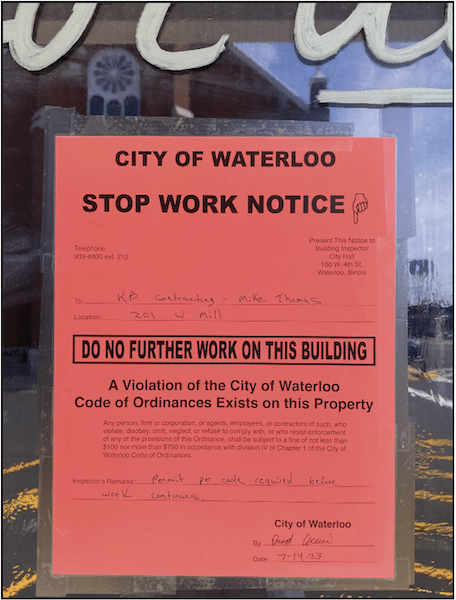 The City of Waterloo and a local contracting firm are at odds over the future of a former local staple.
A September 2022 fire heavily damaged Ahne's Bakery at 201 W. Mill Street in Waterloo, after which KB Contracting announced it planned to "fully remodel" the longtime former local business into its next main office.
Last week, KB Contracting posted on Facebook it had finally closed on the property and expressed displeasure with pushback from the city on its plans.
"We have a long road ahead because from the moment we spoke to Jeff (Ahne), the city's zoning administrator and mayor have done their best to prevent us from purchasing and saving this building," KB Contracting stated in its post.
The city's recommendation for this building, per consultation from an engineering firm, is to demolish and replace the main bakery storefront due to structural concerns.
Monroe County real estate records show that KB Development Group LLC officially purchased the property from Ahne on Thursday for $150,000.
On Friday, a stop work order notice issued by Waterloo Building Inspector Brad Yearian was taped to the front window of the building, stating a violation of city code exists at this site and a "permit per code is required before work continues."
Waterloo Mayor Stan Darter said workers were seen performing work inside the building without first being issued a permit to do so.
Per city ordinance, any owner or authorized agent who intends to "construct, enlarge, alter, repair, move, demolish or change the occupancy of a building or structure, or to erect, install, enlarge, alter, repair, remove, convert or replace any electrical, gas, mechanical or plumbing system… shall first make application to the building official and obtain the required permit."
Shortly after this order was posted, the city learned the notice was removed from the building and workers were again seen inside.
This action resulted in a city ordinance violation being issued Saturday against KB Contracting for disobeying the stop work order.
The city posted a second "stop work order" notice on the building, which had also been removed as of Tuesday afternoon.
On Sunday night, KB Contracting posted on Facebook that Waterloo Zoning Administrator Nathan Krebel and Yearian had "unlawfully" entered the building to obtain pictures and videos.
"No approval from us and no warrant," the Facebook post states. "We didn't find out until they left."
Krebel disputed that claim, telling the Republic-Times that workers on scene gave consent for them to enter.
"We weren't in there to cause problems," Krebel said.
The Facebook post goes on to claim Waterloo Mayor Stan Darter arrived a short time later and shouted "go home" to KB's employees.
"We immediately asked him to leave as we wouldn't tolerate harassment of our employees," the post states. "When public officials break the law and violate constitutional rights, there should be a zero tolerance policy and those public officials should be removed."
Darter said he saw workers inside shortly after the first stop work order was posted, so he made sure to tell the workers such an order had just been posted.
KB Contracting added it has "repeatedly tried to personally meet with these officials, only to have our requests for meetings denied and our phone calls ignored. We have even been questioned who we voted for."
Darter clarified that KB Contracting owner Mike Thomas first brought up the voting conversation to Darter in an email, stating he had voted for Darter in the recent mayoral election.
Darter replied that Thomas couldn't have voted for him since he resides outside of Waterloo city limits.
As for the lack of communication, both Krebel and Darter said Thomas and/or representatives of KB Contracting are welcome to set up a time to meet at City Hall, but due to prior mentions of litigation, they prefer all communication between the two parties be in written form.
The city has had prior run-ins with Thomas and KB Contracting of late.
Acting on a City of Waterloo referral, the U.S. Department of Labor's Occupational Safety and Health Administration inspectors found five employees of Groundworks Contracting in trenches as deep as 18 feet on five occasions during an investigation from Nov. 30, 2022 to Jan. 20, 2023 at the Silvercreek Crossing residential housing development, the general contractor of which is KB Contracting.
Inspectors determined workers were at risk without required cave-in and head protection and by not being fully trained.
Earlier this year, Thomas pled guilty to city ordinance violations issued after allowing occupants at 121 S. Main Street – the upper level of Shorty's Smokehouse formerly known as City Hotel – without obtaining required occupancy permits from the city.
Those citations were issued in April.
Thomas was fined $1,020 as a result, with part of the judgment requiring he "not violate any other laws or ordinances."
KB Contracting stated in its original Facebook post on this issue that "even with all the negativity from City Hall, KB Contracting is Waterloo proud!"