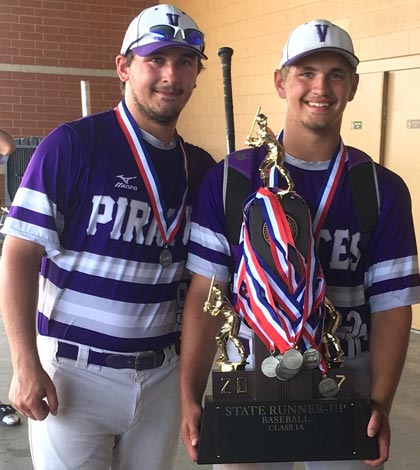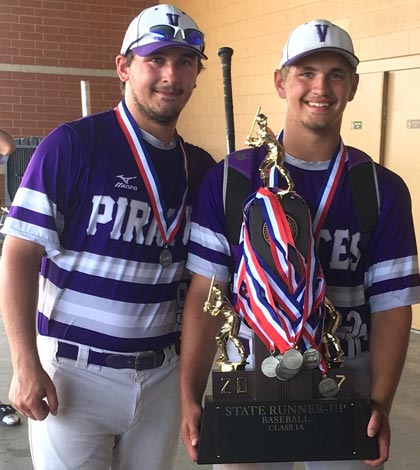 The theme song of the world champion 1979 Pittsburgh Pirates baseball team was "We Are Family."
The same song could have applied to the 2017 Valmeyer Pirates baseball bunch, as players and coaches formed a special bond bolstered by strong family connections.
Key to this tight-knit group were the Wallace twins. Brothers Easton and Erikson Wallace were the only two seniors on the team and were looked upon for leadership as the Pirates made school history by reaching the state tournament.
"It's always been fun playing together with him, but being able to lead the team to state together was pretty special," said Easton, the older brother by a whole two minutes.
The Wallace twins have been playing baseball together since sixth grade, although Easton was playing the game on his own much earlier than that.
Erik said he was more into football at an early age and didn't start playing until junior high.
"It's been a great learning experience," Erik said. "(Easton) taught me stuff about the game early on and gave me confidence."
Erik said he has fond memories of playing these past four years with his brother and the rest of his teammates, and this year's run to the state title game was a "really cool experience."
"It was definitely special," Erik said. "Our team shared a special bond and a love of baseball, and I think we were definitely the closest group of all the teams making it to state.
"We're really going to miss it."
Easton will take his game to Kaskaskia College next season, while Erik will focus on his studies at Lindenwood University-Belleville.
"I'll miss playing the game with (Easton), but I'll still go and watch him at Kaskaskia and support him along the way," Erik said.
Valmeyer head coach Greg Reinhardt said the Wallace twins were a huge part of the team chemistry this season.
"They were our seniors, and we looked up to them," Reinhardt said.
Easton hit .450 this season and finished his varsity career at Valmeyer with a school record 186 hits. Erik picked up key pinch hits during his years with the team and filled whatever role was asked of him.
Reinhardt's son, freshman southpaw Philip Reinhardt, was the leading pitcher on the team, adding to the family dynamic.
"They're all like your sons," Greg Reinhardt said. "I'm so proud of Phil and all our kids, who have grown up and played together like brothers all these years."
The assistant coaches for Valmeyer — Brad Juelfs and Chad Kempfer — each have sons that were key members on the team, those being junior shortstop/pitcher Cole Juelfs and junior catcher Tyler Kempfer.
"This team was just very special," Greg Reinhardt said. "There's a lot of fun memories, man."