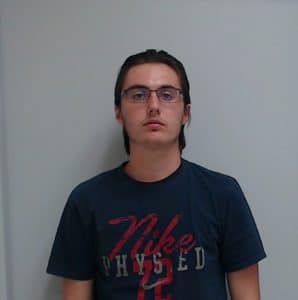 A 21-year-old Columbia man was charged following multiple vehicle break-ins early Wednesday morning in the Hawthorne Estates subdivision off Bluff Road south of Columbia.
The Monroe County Sheriff's Department said that shortly after 4 a.m. Wednesday, deputies were called to the 10000 block of Sandalwood Drive for the report of a subject attempting to gain entry into a residence through a rear basement door.
Within five minutes of the call, the first deputy arrived on scene. Remaining deputies and Columbia police arrived shortly after to assist. The suspect had fled from the residence prior to police arrival.
A detailed search was conducted using police K-9 units and an aerial drone due to a thick woodline near the subdivision along with the edge of the bluff. After several hours of searching, the Monroe County Sheriff's Department remained in the area and waited for daylight. Once daylight occurred, investigators and deputies canvassed the neighborhood. It was then discovered that several vehicles throughout the neighborhood were burglarized.
Throughout the day, police followed up on leads and within 12 hours had identified a suspect.
At approximately 8:40 p.m. Wednesday, the suspect was located and taken into custody. He was transported to the Monroe County Jail in Waterloo, where he was held pending further investigation and warrant review by the Monroe County States Attorney's Office.
On Thursday, Monroe County State's Attorney Chris Hitzemann and Assistant State's Attorney Lucas Liefer charged Brian Meyer, 21, of the 2700 block of Woodson Drive, with seven counts of burglary to a motor vehicle.
Judge Doyle set his bond at $30,000. Meyer remains in custody at the Monroe County Jail.
"The Monroe County Sheriff's Department would like to thank all the citizens who provided information to assist in the investigation and also all the agencies who assisted, which include Columbia Police, Columbia Fire and the Metro East Auto Theft Task Force," the sheriff's department stated in a news release. "Within 18 hours of the initial call, a suspect was identified and in custody."