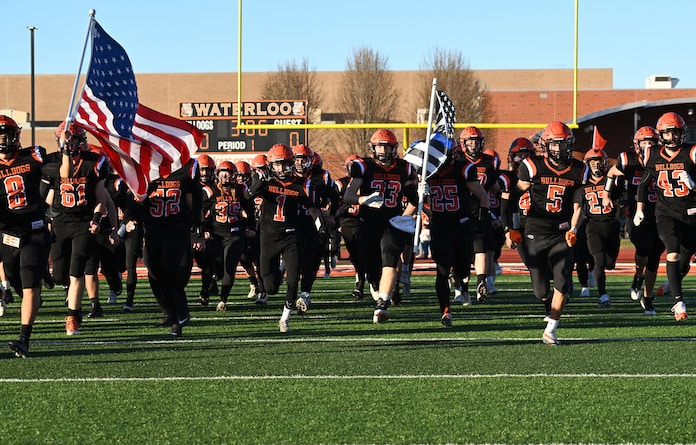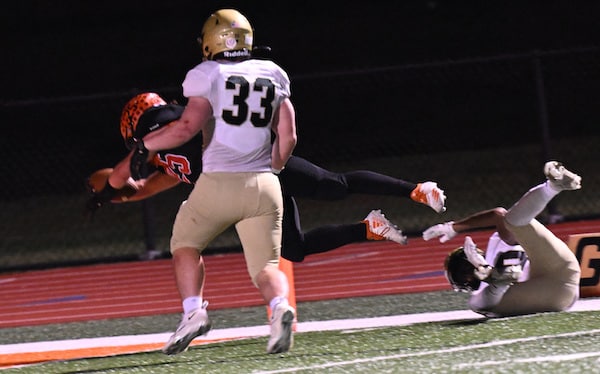 The Waterloo High School football team almost pulled off an upset for the ages on Saturday, but in the end it was not to be. 
The Bulldogs lost 28-16 at home to perennial football powerhouse Springfield Sacred Heart-Griffin in the second round of the IHSA Class 4A playoffs.
Waterloo's defense came out with a purpose and kept Sacred Heart-Griffin off the scoreboard early. The Bulldogs, meanwhile, led 6-0 at halftime thanks to two field goals from Lexi Stephens.
Early in the third quarter, Koby Osterhage picked off a Sacred Heart-Griffin pass and returned it nearly 70 yards to give the Bulldogs another good scoring chance. Waterloo was held to its third field goal, which made it 9-0.
Sacred Heart-Griffin returned the ensuing kickoff 90 yards for the game's first touchdown, giving Springfield some life.
Waterloo responded in dazzling fashion, as Bryce Reese rumbled 69 yards for a rushing TD late in the third quarter that gave the 'Dogs a 16-7 lead and renewed hope in shocking the football world.
But Sacred Heart-Griffin rattled off 21 unanswered points in the fourth quarter, however, and its defense came up with key stops late in the game.
A short TD run for Sacred Heart-Griffin made it a 16-14 game early in the quarter.
Waterloo went for it on fourth down near midfield, and senior running back Evan Davis was brought down for a three-yard loss. With just more than five minutes left in the contest, Sacred Heart-Griffin grabbed its first lead on another short TD run.
After a three-and-out for the 'Dogs, Sacred Heart-Griffin senior quarterback Ty Lott scored on a 67-yard TD run with three minutes remaining that sealed Waterloo's fate.
"It was a good effort," Waterloo head coach Dan Rose said afterward. "Realistically, we played above our abilities."
Rose praised the kicking game of Stephens for putting points on the board early, adding his defensive coordinator Chase Guercio "put together a good game plan" on defense.
"Two big plays got us late," Rose said. "If two of our three field goals were touchdowns, it's a different game."
In his final game as a Bulldog, Davis rushed for 181 yards on 32 carries. For the season, Davis ran for a school record 1,760 yards in addition to his 260 yards receiving.
Reese added 108 yards rushing on Saturday.
On defense, Waterloo's Aiden Hunter recorded two sacks and Harrison Bartosik added a sack.
Waterloo finished its season at 7-4, including its first playoff win since 1994.
Sacred Heart-Griffin (11-0) advances to the next round of the playoffs against Murphysboro (9-2).
While most of the high school football world was surprised at the near upset, Rose said he and assistant coaches "saw some things on tape" while planning for Sacred Heart-Griffin.
The defending state runners-up had not scored less than 49 points in any game this season up until Saturday, with the closest margin of victory being 35 points.
Rose said watching games such as the state final last season when Sacred Heart-Griffin lost to Joliet Catholic showed vulnerability up the middle.
"We were able to eat clock running the ball," Rose said. "We saw that when teams line up and run straight at them, you can maybe have some success."
After the loss, Rose said he told his team – especially his seniors – how proud he was of them.
"I was thankful that they played hard for me and bought in to what we were trying to do," Rose said. "They created a lot of buzz around town. Just very proud of them all."
'Outside noise'
Secondary to the game were a couple of incidents leading up to kickoff that Rose simply dismissed as "outside noise" but still drew the ire of Bulldogs fans.
The first was a rumor Monroe County rival Columbia had allowed Sacred Heart-Griffin the use of its turf field to warm up and practice prior to Saturday's early evening kickoff.
Columbia Athletic Director Scott Horner did not respond to a request for comment on the matter.
Rose said he researched IHSA rules upon hearing of the situation, admitting it is unique.
"I looked it up," Rose said. "It's legal to do. You can warm up somewhere else if you want."
Likewise, IHSA Assistant Executive Director Matt Troha confirmed what Rose said.
"No rule against that," Troha said. "Very common for schools to organize using other high school fields to have walk-throughs on the way to a game or prior to getting to the game field."
The next topic of discussion was the witnessing of multiple Sacred Heart-Griffin players and/or coaches publicly urinating from the fenced-in southeastern edge of the WHS grounds toward a cornfield before the game.
Per a TV news report Monday out of Springfield, Sacred Heart-Griffin football players are being punished by its high school administration for urinating in public at the game.
The school's athletic director told NewsChannel 20/FOX Illinois "this was a huge mistake and the school is embarrassed and disturbed about what happened."
Those involved have been "reprimanded," but the school is "handling it privately," per the news report.
For his part, Waterloo Athletic Director Brian Unger took the high road in his comments on these matters.
"While there have been some unfortunate distractions this week, the success of our football team deserves the focus of our attention," Unger said. "We are proud of our players and coaches and they played a tremendous football game Saturday."