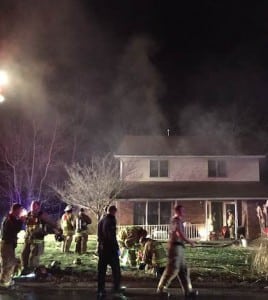 A fire damaged the downstairs area of a Columbia home Tuesday night. Fortunately, the occupants of the home and their dog escaped without injury.
The Columbia Fire Department responded about 10:30 p.m. to the home of Tom and Jeannine Belt at 237 Oak Tree Drive, located at the corner of Kalowsky Street.
Millstadt fire personnel assisted at the scene. The Dupo Fire Department stood by at the Columbia fire station to cover any additional calls that might come in. Columbia police and EMS personnel also assisted at the scene.
Firefighters had the fire extinguished by about 10:45 p.m., but remained on the scene until about midnight to ventilate the structure, ensure there was no rekindling and conduct cleanup.
"Our guys had a good knockdown and the fire was out in a matter of minutes," Columbia Assistant Fire Chief Jim Broshears said.
The fire apparently started in an office area of the downstairs, Broshears said, and spread to the living room portion of that level. An ember from a cigarette ash is the mostly likely cause of the blaze, he added. There were no working smoke detectors inside the home, Broshears added.
"The wife said she was smoking in the office earlier and we did find an ashtray," Broshears said.
Fire damage was contained to the downstairs, Broshears said, with other portions of the home sustaining smoke and water damage. The Belts are temporarily displaced as a result of the blaze.