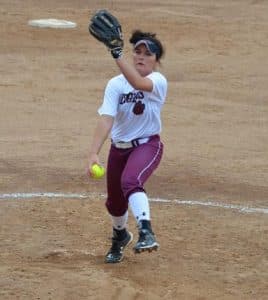 It's postseason time for high school softball, and one local team has already punched its ticket to the sectional round while two others begin regional play this week.
Dupo captured its fourth straight Class 2A regional championship at home on Monday, 5-4 over Wood River.
The Tigers (20-8) were led on offense by senior shortstop Skylure Barlow, who went 2-for-3 with three RBIs. Cameron Foster and Stormy Sellers added two hits apiece.
Megan Brown struck out eight in the complete game pitching win, escaping some late jams to emerge victorious.
Last Tuesday, Dupo downed Roxana, 4-2, to reach the final. Taylor Esmon went 3-for-3 with a home run, double and four RBIs and Brown allowed just one hit on the mound.
Dupo, last year's Class 2A runner-up, plays Wednesday in the Williamsville sectional for a chance at another sectional title.
Brown is hitting .513 with nine home runs and 26 RBIs and is 13-4 with a 1.62 ERA as a pitcher.
Esmon is hitting .469 with 12 home runs and 42 RBIs.
In Class 1A, Valmeyer ended its season with a 4-1 loss to New Athens in the Lebanon regional final on Monday. Chelsea Hooker and Lilly Schlemmer each went 1-for-2 in the defeat.
The Pirates (7-16) advanced to the regional final with a 6-5 win over Metro East Lutheran last Wednesday. After the Knights scored three runs in the top of the seventh to take a 5-4 lead, the Pirates answered with two runs in the bottom of the seventh for the win.
Hooker went 3-for-4 with a home run and two RBIs. Schlemmer went 2-for-3 with three RBIs.
Columbia (26-4) opened Class 3A Freeburg Regional play with a 12-2 win over Mascoutah, advancing to Saturday's regional title game.
The Eagles ended their regular season with a 12-11 loss to Herrin last Wednesday. Courtney Weilbacher went 2-for-4 with a home run and two RBIs. Mikaela Kossina, Kelly Metter, Chelsy Pena and Keeler van Breusegen added two hits apiece.
Weilbacher leads the team in hitting at .543, followed by Calli Wibbenmeyer at .532.
Also in Class 3A, Waterloo (21-8) will battle Olney on Wednesday in the Mt. Vernon regional for a shot at Saturday's title game.
The Bulldogs concluded their regular season with a 6-2 loss to Edwardsville on Friday, which snapped a 10-game winning streak. Last Wednesday, Waterloo defeated Granite City, 8-3. Hitting homers for the 'Dogs in the win were Miranda Brown, Taylor Downen, Hannah King, Ashley Reeder and Erica Schaab.
Schaab leads Waterloo in hitting at .454 with eight home runs and 26 RBIs.