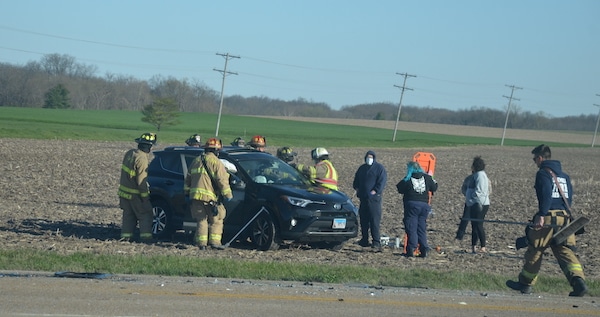 Emergency personnel responded about 8:25 a.m. Thursday to a two-vehicle crash with entrapment and injury on Route 158 eastbound at Douglas Road between Columbia and Millstadt.
One of the vehicles, an SUV, came to rest in a field off Route 158 as a result of the collision. At least one person was transported by ambulance to an area hospital for treatment of minor injuries.
Responding agencies included Millstadt fire and EMS, the Columbia Fire Department and Illinois State Police.
ISP said one vehicle veered in front of another while turning from Douglas Road onto westbound Route 158.
All lanes were reopened to traffic by about 9:15 a.m.
Police said the driver of a black Toyota SUV was Rachel E. Albers, 29, of Smithton and the driver of a white 2004 Ford pickup was Eric J. Frierdich, 35, of Columbia. Albers, who was the person injured in the crash, was cited for failure to yield when turning left.