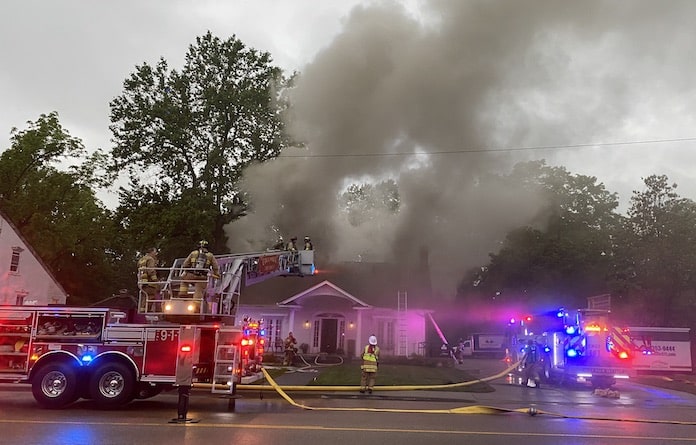 Multiple departments battled an early Saturday morning structure fire in Columbia that was caused by a lightning strike.
Columbia, Waterloo and Millstadt firefighters responded to the Mandy McGuire real estate office at 705 N. Main Street in Columbia after smoke was seen billowing from the top of the structure.
The call went out at 6:10 a.m.
Firefighters were seen cutting holes in the roof of the business to ventilate heavy smoke. The lightning strike led to a fire in the attic, which wasn't completely knocked down until about 6:50 a.m.
Assisting the three fire departments at the scene were Columbia police and Columbia EMS.
Columbia Fire Chief Mike Roediger said a passerby saw smoke coming from the structure and called 911. The upstairs portion of the real estate office sustained heavy smoke damage. Firefighters also had to pull the ceiling down as part of fighting the blaze.
"It'll take some money, but they can fix it up," Roediger said of the building's overall condition.
The building – a former residence recently converted into a real estate office – was unoccupied at the time of the fire.
Longtime Columbia residents recognize the building as the former home of Dr. Alvin H. Maeys Sr., who practiced medicine in Columbia from 1933 to 1965 and was county coroner for 20 years. His son, Alvin H. Maeys Jr., served as a judge in Monroe County.
Main Street was closed in the area of the fire until about 7:45 a.m., although fire official remained on scene for another hour.
A representative from the Illinois state fire marshal's office responded to the scene to aid in assessing the situation.
"Unfortunately it's a lot of damage and a bit overwhelming at the moment," McGuire posted on Facebook following the fire. "We are so very lucky to have the best volunteer firemen in the world. I can't say thank you enough for the first responders who were there to help. They all went above and beyond."