Steamy start for soccer teams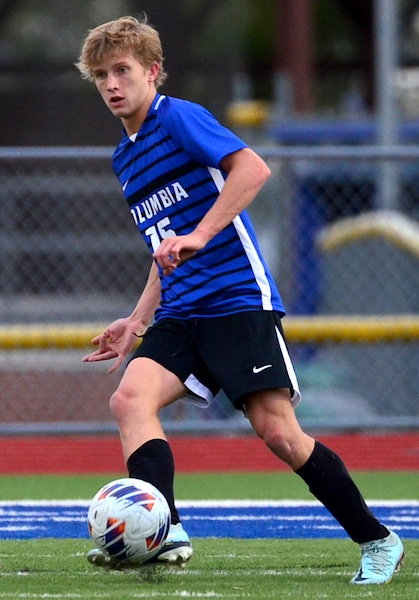 With daytime air temperatures near 100 degrees and high humidity, the high school boys soccer season got off to a steamy start this week.
Columbia opened its 2023 campaign with a pushed back start of 8 p.m. Monday at home against Father McGivney as part of the Metro Cup.
The Eagles sweated their way to a 3-0 victory, getting goals from three different players. Hayes van Breusegen, Elliot Nelson and Liam Bivins scored for Columbia, with teammates Tyler Darnell and Chase Faris dishing out assists.
The Eagles led 1-0 at halftime.
Brady Hemminghaus, who went 10-2 in net last season, made five saves for the shutout.
Despite losing some key offensive pieces from last year, Columbia is hoping to improve upon its 2022 record of 17-7-1 this fall.
With 100-degree heat slated through the rest of the week, the high school soccer schedule was altered.
Columbia was slated to play Tuesday at Belleville West and host Marion on Thursday, but both Metro Cup matches were canceled.
Columbia is still set to host Carterville at 2 p.m. Saturday.
Waterloo was slated to play at Belleville East on Tuesday before hosting Mater Dei on Thursday, but Tuesday's match was canceled due to the heat.
The Bulldogs have 10 seniors this season and will work to improve on their 2022 record of 10-13-2.
Valmeyer was scheduled to open its season at Roxana on Tuesday against Wood River, followed by another match in Roxana on Thursday against Lebanon.
No JV for Gibault
In an email sent to area coaches and athletic directors last Wednesday, Gibault Catholic High School Athletic Director Jim Montgomery said the Hawks will play a "varsity only" schedule in boys soccer this fall due to low participation numbers.
"As it stands today, we have 19 players in the program, with little hope that number will change for the better," Montgomery said. "Over the course of a physically demanding season, that number could conceivably go down. It's clear to us there are not enough players to support a varsity and junior varsity team, so the unfortunate reality is we will not be able to honor our underclass schedule. This has been an agonizing decision, and I can assure you it was not taken lightly. We feel strongly this will be a one-year situation and our numbers will bounce back."
That number dropped to 18 later in the week after one of Gibault's players reportedly quit the team.
The Hawks were also slated to open their season in the Metro Cup this week, but those games were canceled due to heat.
Gibault is still scheduled to play at Oerter Park in Columbia on Saturday against Metro East Lutheran.
Key returning players for the Hawks include seniors Gavin Kesler, Kanen Augustine and Brady Biffar.