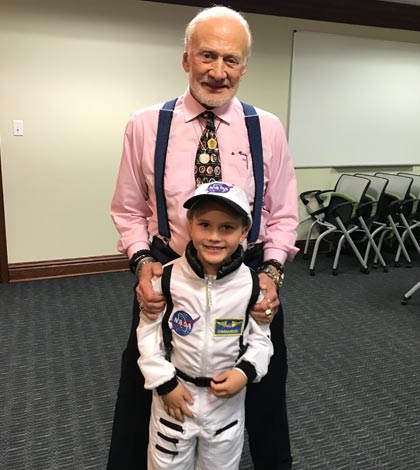 The 6-year-old son of a Waterloo native had the experience of a lifetime last week when he got to meet a legendary former astronaut.
Buzz Aldrin spoke to a full house at Saint Louis University's Center for Global Citizenship last Wednesday as part of SLU's Great Issues Speakers Series. As the Lunar Module Pilot on Apollo 11, Aldrin was one of the first two humans to land on the Moon, and the second person to walk on it.
Fascinated with space exploration, Lukas Pilkey, 6, the son of 1996 Waterloo High School graduate Aerica (Dreps) Pilkey of Shiloh, stood in line with his parents outside of SLU dressed as an astronaut in hopes of getting a seat to Aldrin's speech. 
Once inside the venue, event organizers noticed Lukas' astronaut suit and gave him a special backstage pass to meet Aldrin.
Lukas – dressed as an astronaut, of course – was the grand prize winner of the Halloween parade in O'Fallon last month. His parents also constructed a seven-foot-tall Apollo 11 rocket for him, which may be entered into an upcoming lighted holiday parade.
After Lukas enjoyed his moment in the sun with Aldrin, his mother said he was still on cloud nine. 
"He was like in a daze," Aerica said. "He told us, 'I'm just shocked. I just met Buzz Aldrin!' It was a dream come true for him."
And no doubt, Lukas will keep reaching for the stars.