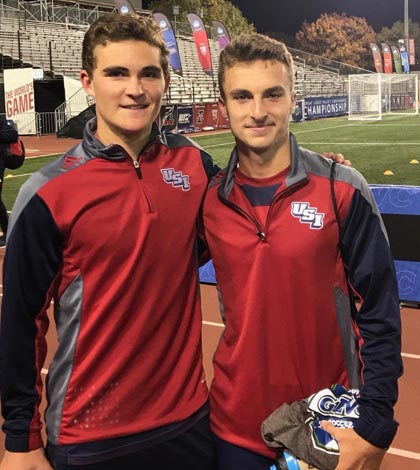 The strength of Monroe County soccer extends past recent high school success, as several former Hawks, Eagles and Bulldogs can attest.
Here is an update on a number of local soccer players competing at the college level.
Ben Huels, a 2017 Waterloo High School graduate, recently wrapped up his freshman year on the Saint Louis University soccer squad. Huels played in 15 of SLU's 17 games this season with seven starts and tallied one assist for the 7-9-1 Billikens.
Kane Osterhage, a 2016 WHS grad, scored five goals with five assists as a sophomore on the Southwestern Illinois College soccer team. 
Osterhage was one of five local soccer players for SWIC this season, including 2016 Gibault graduates Lucas Epplin and Dalton Scace. Epplin went 4-1 with two shutouts as a freshman goalkeeper; Scace scored five goals in 12 games.
Waterloo's Dawson Holden and Kyle Schaefer also played this season for SWIC, which went 8-8 on the season.
Daniel Gardner of Waterloo is a member of the Bradley University soccer team, which went 11-7-2 this season. Gardner played in seven games for the Braves, starting one. He recorded an assist on the season.
Former Columbia High School standouts Sean Rickey and Adam Becker are members of the University of Southern Indiana soccer team, which went 11-7-1 this fall. Rickey started 18 games, scoring five goals with an assist. Becker played in 17 games, starting four, recording a goal and two assists.
Former Gibault standout Andrew Reinholz is a junior member of the Rockhurst University soccer team, which recently earned the No. 2 seed in the Midwest Region of the NCAA Division II Soccer Championship with a record of 13-2-2.
Ryan Stites, a 2017 WHS grad, is a freshman midfielder on the Truman State University soccer team, which went 4-12-1 this season.
On the women's side, Waterloo's Erika Lloyd was a capain on the SWIC soccer team that went 10-9 on the season. The captain midfielder scored seven goals with eight assists for SWIC and will play for Lindenwood-Belleville in 2018.
Former Columbia standout Alison Riddle went 9-3-3 with six shutouts as a goalie on the Maryville University soccer team.
Another former Eagle, Lauren Kaempfe, made nine starts as a junior on the Southeast Missouri State soccer team, recording two goals and an assist.
Morgan Glaenzer, a 2017 CHS grad, is a defender on the Tennessee-Martin soccer team. She played in nine games, starting two.
Her former teammate at CHS, Madelyne Juenger, scored five goals with three assists in 18 games (all starts) at the University of Southern Indiana. The Screaming Eagles went 8-5-5 on the season.
Waterloo's Hope Elliott is a senior on the Rhodes College soccer team that went 8-5-3 this season. She played in 15 games, starting five, and recorded two assists.
Gibault graduate Carley Olson is a sophomore on the Wingate University soccer team, which posted an 11-4 record this season.
Brice Bement of Waterloo is a junior at Austin Peay State University. She played in seven games for the Governors, who went 8-7-3 on the season.