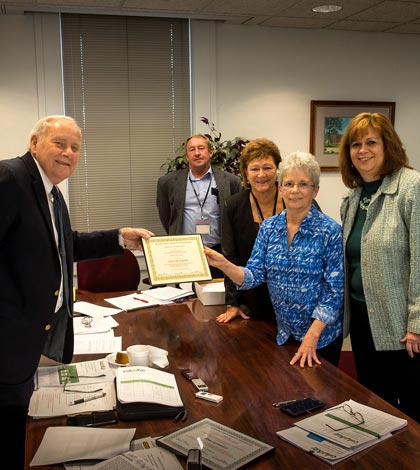 The Monroe County Board of Commissioners gave unanimous preliminary approval to the county's fiscal year 2018 budget during its Monday meeting.
The 52-page document detailed expected revenues and expenditures of approximately $7.7 million for the budget year that begins Dec. 1. Final budget approval is slated to occur at the Dec. 4 board meeting.
Monroe County Treasurer Kevin Koenigstein explained that the final budget may be tweaked in the next few weeks, and can even undergo limited changes throughout the fiscal year – including changes resulting from union negotiations, unforeseen budget contingencies, and an ongoing review of fees charged for various services. But he emphasized that regardless of minor changes, revenues should be right at $7.4 million while expenses should be lower than the $7.7 million projected Monday.
Monroe County Commissioner Delbert Wittenauer noted the turnaround in operating costs for the ambulance service in recent years.  
"We were very concerned about increasing costs of the ambulance service three years ago," he said, "and now it may be becoming a source of revenue for the county."
Oak Hill Director Kim Keckritz addressed the board about the facility's end-of-year financial roundup.
Although revenue exceeded expenses, Keckritz said, she expects even better results next year with the full opening of the Evergreen Pointe transitional care care unit. She noted that based on past performance, Oak Hill projects a 94 percent occupancy rate, while the national average for similar facilities is 82.6 percent.
Keckritz also honored food service employee Carla Deterding for 25 years of service. Deterding estimated to have prepared meals for hundreds of residents through the years, at both the old and new county homes, as well as more recently for detainees in the Monroe County Jail. Deterding spoke about the contrasts between the old and new facilities, and how she has been training her successor to anticipate needs to stay one step ahead of the busy days.
Keckritz also told the board the facility is embarking on a 10-year plan to renovate apartments in the Magnolia Terrace assisted living facility. 
"We are planning to redecorate one apartment a month, including installing new cabinetry and larger refrigerators at a cost of about $5,000 for each apartment," she told commissioners.
Ambulance Service Director Carla Heise opened bids for remounting an existing ambulance box on a new chassis to extend the ambulance's service life. The winning bid was $141,975, which will buy a new, four-wheel-drive truck chassis, and remove, rehab and install the existing ambulance box on it. Heise told the commissioners this should be the last remount needed for about three years.
The board also recognized Heise for recent training she competed in San Antonio, Texas, making her the county's first certified Ambulance Service Manager.  
In other action, the commissioners approved the same rent for 2018 as was paid in 2017 for county-owned facilities leased to the Monroe Randolph Regional Office of Education, Monroe County Emergency Management Agency, Monroe County Health Department, Violence Prevention Center of Southwestern Illinois and Monroe County Ambulance Service.
The Monroe County Board will meet in regular session next, Monday, Dec. 4, in the Monroe County Court House.  Sessions are open to the public and an agenda is posted before the meeting at www.monroecountyil.org.