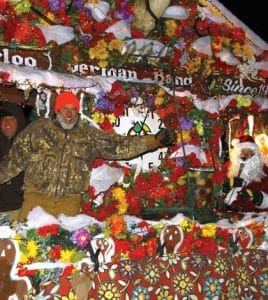 Waterloo German Band founder Harry Wolf turned 87 in November, but the well-to-do public figure shows no indication his age will slow his efforts.
"The Waterloo German Band had 43 jobs in October," Wolf told the Republic-Times.
The band's annual Santa Float will drive around town through Christmas Eve and Wolf will continue to drive his float with band member Barbara Johnson navigating.
After about 12 years of organizing and showcasing the float, the question was raised as to whether he could continue the tradition much longer.
"It depends on my health. I could see doing this again next year," he said, then turned to Johnson. "It depends on her. She did most of the thinking when it comes to what to put in the goody bags."
At 71 years in existence, the Waterloo German Band carries a long and storied history, and the Santa Float is one tradition that continues to gain a growing number of volunteers and donors through the years.
For instance, the Students Helping Out Waterloo Club at Waterloo High School stuffs the children's goody bags each year. Waterloo school district wellness coordinator Kelly Lerch, who serves as SHOW Club advisor, said about 50 students helped this year.
"I have loved the Santa Float for a long time and I'm always excited when they come through our neighborhood," WHS student Hailey Runyon said. "I thought it was very cool to have a hand in helping them bring holiday cheer to Waterloo."
Luanne Ragland collects and deposits donations that funnel in from the community, which help pay for the goody bags and some gas money for the vehicle. Ragland said $2,220 was received from about 33 donors this year.
The cost of the goody bags comes out to $3,000, with Wolf making up the difference.
"I don't want any money. Money's not my object," Wolf said, adding "I'm happy to do it for the children."
Along with the Waterloo German Band, the Waterloo Chamber of Commerce, Sister Cities PortaLoo and City of Waterloo all sponsor the Santa float. Call Wolf at 939-8041 for more information.
Johnson said plans for the float began in November and included sending out letters to potential donors, ordering items for the goody bags — totaling 3,000 for the year — and reserving dates with SHOW.
The float traditionally carries a total of eight Santas in a period of eight days to greet the children of Waterloo, including Dennis Bullock, who is in his fourth year as a Santa. Bullock recalled how each year, the childrens' excitement helps him don the big red suit.
"One of the things I enjoy is — with the elves — when you get into a part of town where there's not really anybody around, a kid will come running up and (the elves) will feed you information like, 'That's little Jimmy,' and you see their faces light up like, 'Oh, my gosh, how does he know my name?' So that's fun."
The Santas fair better than some volunteers in the frigid temperatures because of the warmth from the costume, Bullock said, adding the wind along Route 3 can be brutal. Wolf and Johnson laughed as they thought back to some of the colder winters, contemplating whether to bring blankets along for helpers.
"Some guys volunteered one year and they weren't dressed very warm — it was Terry Liefer," Wolf said. "I asked them, 'Aren't you going to put on some warmer clothes?'
"They said, 'Harry, we go to football games.' I said, 'Oh, excuse me.' After about two hours, they couldn't take it anymore. They said, 'OK, stop the float. We're getting off,' and that was it."
But the cold weather didn't stop the Santa Float from bringing enjoyment to both the community and the volunteers, including Wolf, who took over as Santa after the other volunteers gave up their post.
"We love about seven nights and by the eighth night, we're sad that it's over," Wolf said.
The opening night of this year's float was canceled due to icy road conditions, but it made its triumphant return to the streets of Waterloo on Sunday.