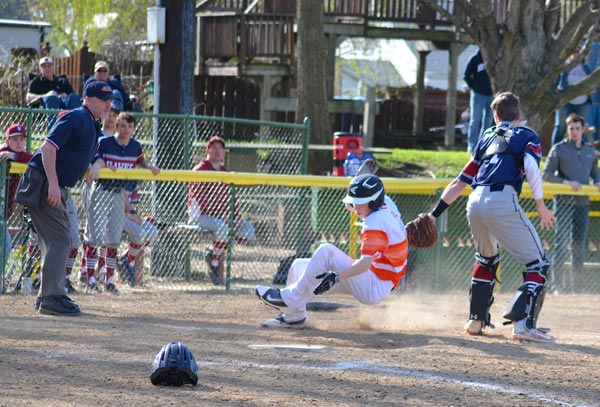 Last week's high school baseball schedule featured a number of local rivalry clashes as the diamonds remained dry enough for teams to get their seasons back on track.
Gibault was on both ends of one-run games in separate rivalry clashes with Columbia on Friday and Waterloo on Saturday.
The Hawks won a 13-inning marathon against Columbia at GCS Ballpark in Sauget on Friday night. Gibault scored three runs in the first, but the Eagles battled back. Both teams scored in the ninth inning, sending the game into extras before the Hawks eventually emerged victorious.
Mark Branz and Blake Metzger both went 3-for-6 in the game for the Hawks, and Trevor Davis went 2-for-4 with three stolen bases and four runs. Davis also pitched six strong innings without giving up an earned run for the win.
For Columbia, Sam Spivey went 4-for-6 at the plate and Shane Wilhelm went 3-for-7 with two stolen bases.
On Saturday, the Hawks fell just short at home against Waterloo, losing 5-4. Gibault went up 3-0 in the first inning before the Bulldogs tied it in the fifth inning.
Davis hit one high up into the wind and over the fence in left-centerfield in the sixth inning to give the Hawks a 4-3 lead before Ben Maurer's smash past the third baseman scored two runs for Waterloo in the seventh.
Matt Wolf pitched six strong innings for the Hawks, and Brinkmann and Davis each had two hits.
Waterloo centerfielder Danny Tharp went 1-for-3 with two  RBIs, and Dylan Siebenberger, who starred on the WHS wrestling team this past winter, pitched a flawless seventh inning for the save.
"Dylan's taking that wrestling mentality to the ballfield, and he's really doing well for us in that closer role," Waterloo head coach Mark Vogel said.
Vogel praised his team for battling back after getting behind early against their cross-town rival.
"That Wolf kid from Gibault kept us off balance, but we showed some character to come back," Vogel said. "Any time you play Gibault, it's a big game."
Earlier on Saturday, the 'Dogs scored three runs in the seventh inning to top CBC, 9-6. Tharp went 3-for-4 and Quinten Albrecht went 2-for-2 with a double, three RBIs and three runs. Tyson Roedl added a hit and two stolen bases, and Siebenberger pitched another scoreless inning for the save.
Tharp and Albrecht were the hitting stars Friday in an 8-3 win at Valmeyer. A three-run sixth gave Waterloo the breathing room they needed to down the feisty Pirates.
Tharp went 3-for-4 with two runs and Albrecht and Erik Kaiser added two hits apiece. Siebenberger recorded 11 outs while allowing just one hit for the win on the mound.
Tharp currently leads the team in hitting at .483 with three stolen bases while adding stellar defense in the outfield.
"He's been a pleasant surprise for us in his first year at the varsity level," Vogel said of Tharp.
Albrecht, a catcher who has verbally committed to Wichita State, is hitting .423 with 13 runs scored.
Kaiser, a Vanderbilt University recruit, is hitting .407 with nine RBIs and has a 1.08 ERA and 23 strikeouts in 13 innings pitched.
Waterloo (8-2) opened Mississippi Valley Conference play against rival Highland on Tuesday, winning 1-0, and will battle Triad on Wednesday.
"Our conference schedule is 10 good games to get us ready for the playoffs," Vogel said.
The Bulldogs play at Collinsville on Friday and will host Pinckneyville for two on Saturday.
In between Friday's win over Columbia and Saturday's loss to Waterloo, Gibault (9-5) edged CBC, 8-7, on Saturday. The Hawks led 5-1 after two innings before the Cadets battled back.
Alex Stern went 4-for-4 with three RBIs, and the Hawks received three hits each from Metzger, Austin Sweeney and Tyler Brinkmann. Branz struck out six over three innings pitched for the win.
Davis is hitting .388 with 10 RBIs, 18 runs and 10 stolen bases, and is 3-1 on the mound with a 1.62 ERA.
Sweeney is hitting .368 with nine RBIs, followed by Metzger at .366 with 12 RBIs and Branz at .359 with 14 RBIs and 16 runs.
Gibault plays at Wesclin on Friday.
Columbia (8-4) lost to Carlyle last Tuesday, 9-8, in a Cahokia Conference clash. The Indians plated three runs in the sixth to stun the Eagles.
Kyle Steve went 3-for-3 with three doubles and Spivey added two hits and four RBIs.
On Thursday, the Eagles blasted Red Bud at home, 15-4. Spivey went 3-for-3 with a home run and five RBIs. Wilhelm added a home run and four RBIs and Dylan Hildebrand added a two-run bomb.
Wilhelm collected 10 strikeouts in five innings pitched for the win.
Spivey leads the Eagles in hitting this spring at .462 with 17 RBIs. Wilhelm is hitting .362 with 13 runs and five stolen bases to go along with his 4-0 record on the mound and 1.47 ERA.
Columbia played at Freeburg on Tuesday and will be at Breese Central on Thursday before hosting Mater Dei on Saturday.
Other than the loss to Waterloo on Friday, Valmeyer (9-4) keeps rolling along.
The Pirates defeated conference foe Steeleville last Tuesday, 6-3. Easton Wallace and Michael Chism collected two hits each and Philip Reinhardt pitched six strong innings.
On Thursday, Valmeyer scored seven runs in the first inning en route to a 12-1 rout of Lebanon.
Cole Juelfs, Jake Krekel and Erik Wallace had two hits each and Chism picked up the win on the mound.
On Saturday, the Pirates picked up an impressive win over Althoff, 7-1. Easton Wallace went 2-for-4 with three RBIs and Juelfs added two hits and two runs while pitching four strong innings.
Juelfs leads Valmeyer at .533 with five stolen bases and a 3-0 record on the mound with a 1.56 ERA. Easton Wallace is hitting .442 with 13 doubles, 17 RBIs and 17 runs. Krekel is hitting .361 with 13 RBIs and six stolen bases.
Valmeyer hosted New Athens on Tuesday and will play at Marissa on Thursday. On Saturday, the Pirates will travel to play Casey-Westfield, South Central and North Clay. On Monday, Valmeyer will play the St. Louis Patriots at GCS Ballpark in Sauget. On Tuesday, the Pirates will host Dupo.
Dupo picked up its first win of the season last Tuesday at New Athens, 7-6. It was first-year head coach Nathan Schmersahl's first coaching victory.
Jarrett Dixon, Jake Hart, Brent Imhoff and Robbie Smith collected two hits each, with Hart driving in three runs.
Austin Francis leads the team in hitting at .450, followed by Tyler Kyle.
The Tigers (1-7) played at Lebanon on Tuesday and will host Steeleville on Thursday.