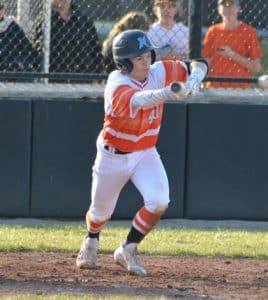 Local high school baseball teams have given their fans some early optimism for season-long success this spring.
Gibault has roared out of the gate to a 6-0 start, posting two more wins last week.
The Hawks blasted Sparta last Tuesday, 15-0. Tyler Brinkmann, Trevor Davis, Blake Metzger and Austin Sweeney collected two hits each. Matt Wolf threw five shutout innings with eight strikeouts for the victory.
On Thursday, Gibault started off sluggish but shook it off to post a 5-3 win over the St. Louis Patriots at Ss. Peter & Paul Field. Collin Kessler pitched six strong innings for the win and Davis, Metzger, Alex Stern and Josh Papenberg collected two hits apiece.
Metzger led the way with three RBIs.
Mark Branz leads the Gibault offense at .462 with nine RBIs, followed by Brinkmann at .444. Sweeney is hitting .375. Davis is hitting .316 with five stolen bases and is 2-0 on the mound with a 0.00 ERA.
The Hawks host Belleville West on Wednesday and will be at Mascoutah on Saturday.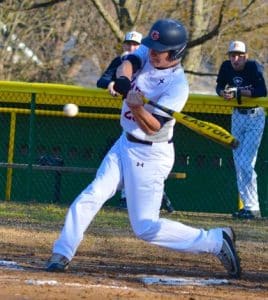 Columbia had a busy past week, going 3-2 to move their season record to 6-2.
Following a loss to O'Fallon last Tuesday, the Eagles won 8-2 over Roxana last Wednesday.
Brennen van Breusegen had a hit and three RBIs. Shane Wilhelm went 2-for-3, and Kyle Steve pitched well for the win.
On Thursday, Columbia edged Althoff, 3-2, behind a game-winning RBI hit in the seventh inning. Luke Watson pitched 5.2 innings of no-hit ball for the Eagles.
On Saturday, Columbia split a doubleheader, losing to Teutopolis, 6-3, before shutting out Greenville, 4-0. Stephen Redinger, Sam Spivey, van Breusegen and Wilhelm collected hits in the game two victory. Wilhelm struck out five in 6.2 innings for the victory.
Spivey is hitting .364 with five RBIs, followed by Wilhelm at .333. Wilhelm is also 3-0 on the mound with a 0.00 ERA.
The Eagles played Marquette on Tuesday before going to battle against cross-county rival Waterloo at WHS on Friday.
Waterloo is 4-0 following three wins last week.
The Bulldogs won last Tuesday in eight innings at Mt. Vernon, 2-1. Nolen Smith and Carter Chaisson collected two hits and an RBI each and hard-throwing righty Erik Kaiser struck out eight in five innings.
On Thursday, Waterloo defeated New Athens at home with a strong wind blowing straight out to leftfield. Quinten Albrecht went 3-for-5 with two runs scored. Ian Hughes went 2-for-4 with five RBIs, and Tyson Roedl added two more hits for the 'Dogs.
On Friday, Waterloo easily handled Wesclin, 12-4. Ben Maurer recorded 11 strikeouts in five innings pitched and added two doubles and two RBIs at the plate. Kaiser went 2-for-5 with three RBIs and Roedl was 1-for-1 with four walks.
Roedl leads the team in hitting at .571 with five stolen bases. Albrecht is hitting .500 with six runs scored. Kaiser is next at .455 and five RBIs.
The Bulldogs play at Althoff on Wednesday before hosting Kaneland on Thursday, Columbia on Friday and Oakville on Saturday.
Valmeyer (4-2) split two recent games.
The Pirates avenged last season's sectional final defeat, topping Okawville at home last Wednesday, 6-3. Easton Wallace went 2-for-3 with two RBIs and Cole Juelfs added two hits and a stolen base. Freshman lefty Philip Reinhardt kept Okawville's offense at bay, allowing just three hits over five innings without allowing an earned run.
On Thursday, Valmeyer dropped a 12-3 contest at Freeburg. Wallace smacked a home run and Drew Maus went 3-for-4 to provide something positive out of the day.
Juelfs leads the team with a .636 average, followed by Maus at .526 and Wallace at .476 with eight RBIs and eight runs scored.
The Pirates played at New Athens on Tuesday and will host Chester on Thursday before battling Oakville this Saturday at Waterloo.
Dupo (0-5) is still searching for its first win under first-year head coach Nathan Schmersahl.
The Tigers suffered losses last week to Marquette, Staunton and Granite City.
Tyler Kyle leads Dupo's offense at .412 with two stolen bases. Senior leader Austin Francis is next at .333, followed by Jarrett Dixon at .308.
Dupo plays at Freeburg on Wednesday and will host Roxana this Saturday.