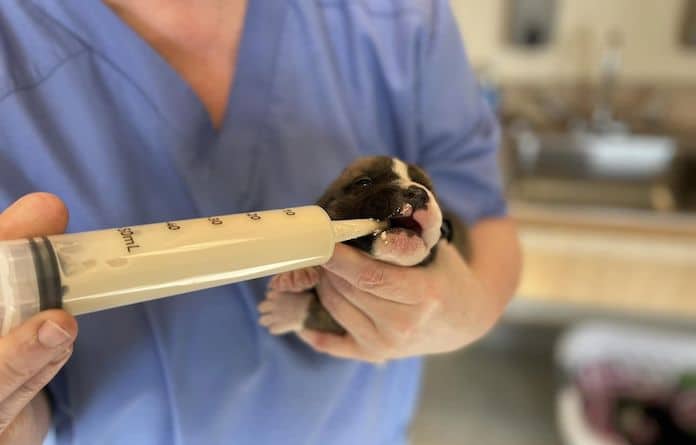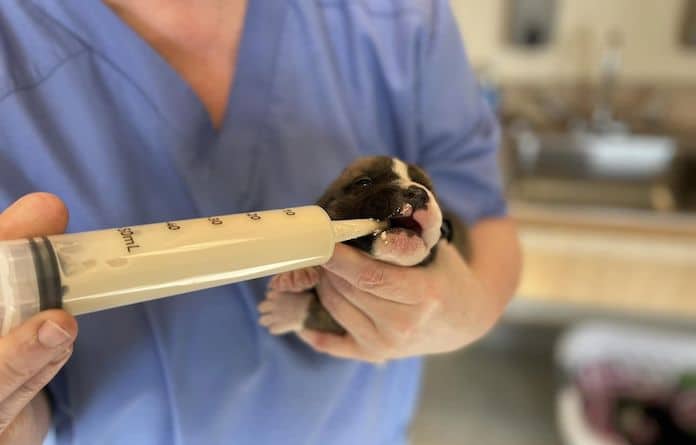 In a span of 15 minutes last Monday, the Helping Strays of Monroe County animal shelter received two calls about separate instances of abandoned puppies in the area.
Six puppies and their mother were found near a field by a hunter.
Another group of 10 puppies were found abandoned in a box along a road near Route 3 in Columbia a short time later.
Later that day, a total of 17 dogs were taken in by the shelter.
Helping Strays staff discovered the 10 puppies were not old enough to eat solid food and required bottle feeding.
The animal shelter, already low on available kennel space, made an appeal to the community for help on its Facebook page.
Helping Strays Executive Director Scott Spinner said that within 24 hours, the post had nearly 600 "shares," and the shelter had already received more than $2,000 in donations for the puppies' care.
By last Wednesday, all 16 puppies and the mother had successfully been placed in foster homes.
"Our community is just amazing. They're always there," Spinner said.
"We're blessed," Spinner continued, "and everyone contributes in the way they can."
Helping Strays supporters not only offered care for the unweaned puppies and foster homes for all the animals found last week but also provided needed supplies such as puppy pads and formula in addition to financial donations.
Spinner said it was "pretty neat to see the response" of people contributing to all aspects needed to care for these animals.
He said some people even ordered supplies from Amazon and had them delivered directly to Helping Strays.
Other people gave donations through the shelter's Pet-in-Need Fund.
Links to Helping Strays' Amazon wish list and other ways to donate may be found on the organization's Facebook page and at helpingstrays.org.
Despite the incredible community response, Spinner suggests there is a way to prevent emergency situations such as the ones it handled last week.
"We'd love for them to bring the animals to the shelter," Spinner said of anyone who is struggling with unwanted animals.
"Sometimes there's a guilt associated with dropping off unwanted pets," Spinner added, "but we always do what's in the best interest of the animals."
He continued by saying the staff at Helping Strays can discuss other options and alternatives for local pet owners who need help.
Abandoning animals should never be an option, Spinner said.
"It would be super helpful if they just dropped (the animals) off at the shelter. We'll make sure they get the care they need," Spinner concluded. "Our communities make sure they will be cared for."
For anyone interested in adopting animals from Helping Strays, an up-to-date list of available animals and adoption forms may be found at helpinstrays.org/adopt.
The animal profiles include the pet's age, personality, preferences, behavior toward other animals and children, adoption fees and any other relevant information.
Helping Strays of Monroe County is located at 4221 Hanover Road in Columbia. For more information, call 618-939-7389.