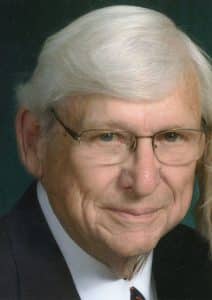 George Ziebold, known around Waterloo as "Mr. Rotary," died last Tuesday at the age of 94.
Friends of Ziebold said he leaves behind a legacy of generosity and caring.
"He was extraordinarily generous," said Jay Huetsch, a friend of Ziebold's for about 40 years. "While frugal in spending on himself, he was generous in spending on others."
Born July 3, 1926 in St. Louis, Ziebold spent almost his entire life in Waterloo, graduating from Waterloo High School in 1944.
He attended Saint Louis University for two years before serving in the Merchant Marines during World War II.
When Ziebold returned home after the war, he owned an appliance store in downtown Waterloo called Ziebold Home Utilities.
That is how Huetsch and Ziebold met, as their businesses adjoined each other.
"He was very quiet and very mild spoken. He didn't talk about others," Huetsch said of the man he regularly got coffee with for over 30 years. "He was very, very bright. He listened to others."
Ziebold also made a name for himself as sponsor and coach of an independent basketball team called the Waterloo Hi-Fi's in the late '50s and early '60s.
But Ziebold was most known for his involvement in Rotary International.
"His church, his wife and Rotary — that's what George loved," Jeff Vogt said. "He liked a good, stiff drink. He liked a good joke. I never had a bad time with him. If there was a cause, he was benevolent in his own way."
Ziebold's activities with the club earned him the moniker many in the community knew him by.
"He was Mr. Rotary," said Alan Jacobs, who met Ziebold for the first time through Rotary in the 1980s. "He believed in it, and he was very dedicated to it."
In addition to being active in the Waterloo Rotary Club, Ziebold served as the club's district governor.
"Rotary just wasn't his hobby. It was his passion," said Vogt, who became friends with Ziebold when he bought JV's Downtown Bar & Grill 35 years ago. "When he got you involved in Rotary, you stayed involved. I'm still in Rotary."
Ziebold believed in Rotary's motto of "service above self" to such a degree that, in 2018, he was inducted into the Arch Klumph Society for donating over $250,000 to the organization throughout his life.
The society honors the highest tier of Rotary's donors.
"He was very generous," Jacobs said of Ziebold. "He supported all the Rotary projects."
A member of Ss. Peter & Paul Catholic Church in Waterloo, Huetsch said Ziebold also worked behind the scenes to give money to the Catholic church.
In addition, he was involved in Boy Scouts for over 80 years, donating to that organization long after his time as a scout.
Huetsch pointed out that Ziebold's generosity came from wealth he earned.
"Most people would be surprised that he was basically a self-made person," he said. "The general perception was that George came from some means, but basically George and his wife Noreen made their own way financially."
Ziebold also made sound investments that resulted in him serving on the board at Harrisonville Telephone Company and First National Bankfor several years.
Even with all that he accomplished in his life, Ziebold still said the best thing he ever did was marry Noreen.
Huetsch recalled Ziebold saying just that when someone asked Ziebold on his 90th birthday what his smartest decision was.
"He truly felt that," Huetsch said of Ziebold's love for his wife, who survives him. "In later years, he very much understood and appreciated how much she did for him. But for Noreen, he never would have been able to stay at home."
Although his health had deteriorated some in recent years, Ziebold enjoyed traveling and physical activity in his younger days, as evidenced by the numerous international trips he took through Rotary and his involvement with the Hi-Fi's.
At the same 90th birthday party he reaffirmed his love for Noreen, Huetsch said Ziebold recounted the "dumbest decision he ever made:" swimming across the Mississippi River as a teen or 20-something.
"When he got to the other side, he realized he had to swim back," Huetsch said with a laugh.
That personality shone through all of Ziebold's life.
"He was just a likeable fellow. He had a great personality," Jacobs said.
"He was a good guy," Vogt agreed. "I can't say nothing bad about the guy."