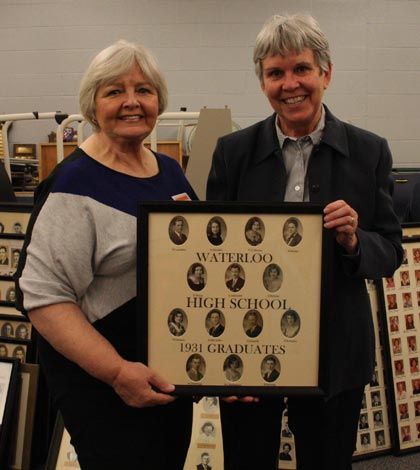 Janice Sanders Callahan recalls walking through the halls of Waterloo High School as a student, seeing the different years of graduating classes that mark the school's rich and storied history.
"I graduated WHS in 1962 so I can remember all of these very old class photos hanging on the walls of the (school). They were such classic old pictures," she said. "I can remember many of my friends pointing out their parents and/or grandparents in these old pictures. "That, to me, was always so fascinating that the history was there."
Years later, Callahan would return to the school in search of a photo for her 50th class reunion, only to find the wall hangings she once admired had been taken down and moved into storage.
"I made arrangements to go to the closet in the basement and found many of the old class pictures dating back to about 1905 were broken, water soiled, and were falling apart," she said. "I picked up broken glass and pictures from the damp/wet floor and put them on a shelf. 
"Then I left. And as I was driving back home to Arnold (Missouri), I was crying and also angry to think that the school had not cared for these old pictures — the history of the school."
Callahan knew she couldn't let the situation go unchecked and called the school district office to ask what could be done.
"I asked, 'If I were to get a group to help me, could I try to get them restored?' I was told yes, but then it took a year or so to be able to do this," she said.
She and Mary Ellen Huetsch began a long-term project in about 2012 of restoring more than 100 class photos dating back to the early 1900s. After years of tireless effort, the two have only five left to go.
"It has been a long process in getting these all restored," Callahan commented.
Huetsch said she started putting together a genealogy book in 2008 containing old WHS graduation photos when Callahan asked her to help with the restoration project.
"(The water damaged photos) had to be recreated using photos from the yearbooks," Huetsch said of the work put into the restoration. "Many were missing as they had been given away by a past principal when taken down from display. Lots of letters, phone calls and visits helped retrieve the originals, or in some cases, obtain copies."
She added they have every class photo from 1925 on and are searching for older photos including those from 1879-1901, 1903-1904 and 1920-1924. Anyone with older class photos can contact Huetsch at 939-6125.
Once the project is completed, WHS principal Lori Costello said the photos will be hung along the school's Legacy Hall. Callahan said she looks forward to seeing these photos on display for the students.
"I'm just thrilled these historical pictures will find a home again on the walls of the high school," she said.
Not long after the photo restoration project started, the WHS Legacy Society came together to honor distinguished alumni, former faculty or those who have made an impact on the district. Huetsch and Callahan are both members of the society.
"(Janice) became concerned when she viewed some of the older photos in the basement of the previous high school that had water damage," Huetsch said. "Kelly Lerch's interest peaked when she learned the story of Roy May's high school years and World War II experience.
"The idea formed to start a legacy group to preserve some of the history of Waterloo High School."
To date, the society has recognized 20 people nominated by the community and voted on by the society. The honorees' photos are then displayed on the Legacy Wall. Lerch, the society's founder, recognized the hard work put into restoring the class photos.
"I think it is a wonderful project.  It has been painstaking and labor intensive," she said. "Mary Ellen and Janice, with the help of Toni Miller, have worked very hard to restore each composite class picture."
Additionally, Callahan said students will hopefully develop an appreciation for history when they see the photos.
"We have been told that a lot of students will look at the Legacy Wall," she said. "Students may start to value history when they see this. I think it makes graduates and residents proud to know of the school's legacy."