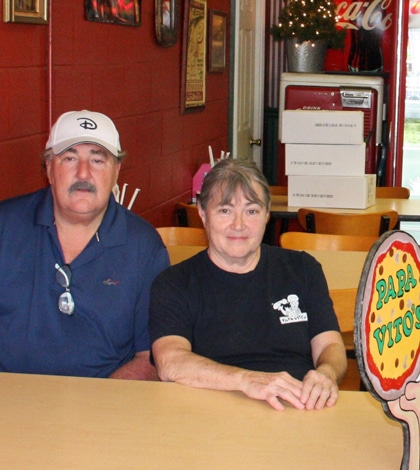 From the humble beginnings of Vito's Bar in Waterloo in 1991, Papa Vito's Pizza founders Gerry and Barb Geoppo now have four restaurants to their name throughout the metro-east.
The Waterloo couple is also in the process of franchising their brand out to interested parties as the Papa Vito's trademark — named after Gerry's grandfather Baldassare "Vito" Geoppo — draws customers near and far for a slice of pie and a friendly smile. 
While they work toward this expansion, the Geoppos can't help but look back at the lengthy process of establishing themselves in the community.
"The Gallagher's building is where we got our start with Vito's Bar, selling pizzas out of there," Gerry explained.
Barb brought her tasty family recipes into the business while Gerry drew from his experience from when his father was a part owner of the former Augustine's Restaurant in Belleville.
"We've been doing this for a long time," Gerry boasted.
After a brief stint with the bar, the pair felt ready to take their business to the next level. 
The first Papa Vito's opened at 223 W. Mill Street in Waterloo in 1995.
"We decided we wanted to concentrate more on the food," Gerry said of the move. "And we were looking for kind of a small place so Barb looked at (our current place) — all it had in it at the time was busted down washers and ugly yellow walls — and said, 'Hey, I think we can do something with this.'"
Opening their first store didn't come without initial challenges, as other entrepreneurs in the area began to follow suit.
"You know, the day we opened the Waterloo store, we weren't in the phone book and no one knew what we were doing here," Gerry recalled. "But Barb made a big homemade sign that said, 'Papa Vitos. We deliver.' 
"And we stuck that sign in the window of the store with our phone number and people started to come by. As soon as we opened and it seemed like we were doing well, we had some competition coming out of the woodwork. 
"And you know, there's only so many pieces of the pie. But after a while, people saw that this was a clean product, that it's better quality and reasonably priced — it still is. Also, our kids would eat here and we wanted to make the best stuff for them."
The Geoppos also developed a motto of treating anyone who walked through the door like family.
"The kids came up with that slogan because they grew up here," Gerry reminisced. "They did their homework in here so they interacted with the customers quite a bit over the years. And it's such a quaint place that anyone can talk to us in here.
"So many people have done that over the last 23 years and have become family and friends. Then you have, if someone comes in maybe one time, chances are that we're not going to know them as well as the people coming every Wednesday.
"We do get that. One lady ordered delivery from us for her whole family when we first opened, and all these years later she still orders from us every week." 
Barb and Gerry's immediate family, though, is what spurred the growth of the restaurant beginning in 2011 when a location opened at 318 E. Washington Street in downtown Belleville.
"The kids wanted to get involved with opening the Belleville store. It started out with finding a place downtown, which is where our son lives," he said. "Now Kati is over at the Belleville store. Kris is running the one in Millstadt and Ryan is over there, too. And then Jamie is at the west Belleville location."
The space at 741 W. Washington Street in Millstadt came about as recently as 2016. In 2015, the family opened its third location at 4205 N. Belt West in Belleville.
The downtown Belleville store features a banquet hall with seating for up to 100 people. According to Gerry, the space is constantly being booked for showers, rehearsal dinners and more.
None of the stores have failed to bring in a crowd. Thanks to their quality salads, pizzas, wings, breadsticks, toasted ravioli and other menu items, more people are discovering how valuable a place Papa Vito's is.
Contact the Waterloo location at 939-5200. For more on the store's history or to order online, go to mypapavitos.com.
"I love the people we meet," Barb concluded regarding what she has enjoyed most over the years. "We make a lot of nice friends. When I look at the business, it comes from the customers, and then they bring in their friends. It's very nice.
"And you get a lot of people who used to come in as kids for birthday parties, and now they're back and bringing their kids."