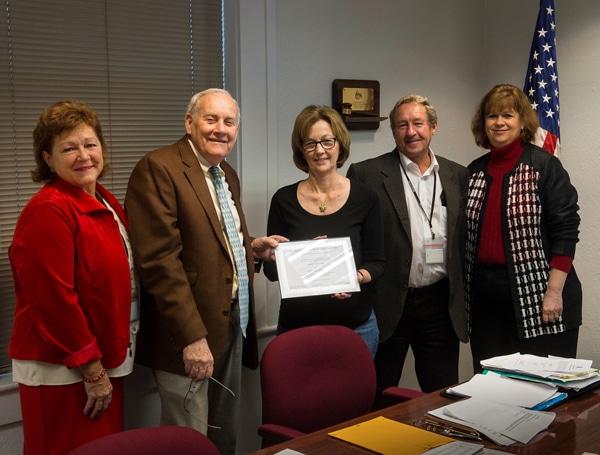 ---
The Monroe County Board ended the calendar year with positive fiscal news. 
The Republic-Times reported Oct. 18, the Board of Commissioners approved a $24,000 contract with the Bloomington firm of Bellwether Management Services to analyze fees for county services, with the promise by Bellwether of a return of an estimated $250,000 on the investment made in the study.
Monroe County fees have not changed in years, or in some cases decades, but associated costs for the county continue to increase. A further analysis of neighboring counties revealed higher fees there as well. 
Based on Bellwether's recommendations, Monroe County Sheriff Neal Rohlfing on Dec. 18 asked the board to approve increases including raising the fees for paper service from $32 to $37; and returning processes, from $8 to $11. And new fees of $81 for a deputy to stand by at an eviction; $100 for sex offender registration, a bond fee of $35, $15 for inmate doctor or nurse visits, and $45 for escorting an inmate to a doctor or dental appointment.
Rohlfing also informed commissioners he has implemented a debit card system for commissary money, with an ATM to be installed in the jail lobby at no cost to tax payers.
County Engineer Aaron Metzger presented a semi-annual report of his department's work. The Gall Road Bridge, completed recently, is under final inspection by the firm Depew and Owen. The cost of the work to Depew was $9,305.32,  with $8,800 held until final inspection and adjustments. 
Oak Hill administrator Kim Keckritz noted that even though some skilled nursing space was lost during construction of the Evergreen Pointe Rehabilitation Facility, and Evergreen Pointe's opening was slightly delayed, the year's census and financial figures remain positive, with an average 96 percent occupancy since 1996.
Keckritz and the county board recognized  two retiring employees — Dan Borisuk was  commended for 15 years of keen oversight of the physical facility of Oak Hill and the Monroe County Nursing Home before that; and Denise Gross, who was honored for 25 years of dedication as a physical therapy assistant at Oak Hill.
Joe Koppeis updated commissioners on economic developments across his projects, which include 11 South in Columbia, the Rock City cave complex in old Valmeyer, and a proposed electric generating wind farm that could include as many as 44 wind turbines. 
Koppeis said Rock City tenant Sun Basket is experiencing success in the competitive business of fresh, made-ahead meal delivery service. 
Koppeis said all but 8,000 square feet of 11 South are now leased, ahead of his two-year schedule. 
"Hopefully, 2018 will be a year of moving and shaking," he told commissioners.
Ambulance Service Director Carla Heise reported on events to celebrate the service's 40th anniversary in 2018. The first is a Jan. 27 blood drive. Also scheduled are CPR training, a car seat check, a mobile mammography unit and more, with the actual anniversary celebration slated for May 23. 
Heise also presented the results of fourth quarter quality surveys. A total of 119 respondents expressed they were "very satisfied" on the areas of  service and none gave marks of "adequate, dissatisfied or very dissatisfied."
Treasurer Kevin Koenigstein reported slightly less than $1 million remains unpaid in property taxes; the list of those with delinquent property taxes is in this week's Republic-Times.
The Eagle Cliff-Miles Cemetery trustees reported volunteers nearly completed the task of securing the iconic mausoleum for at least another century, with extensive restoration of the underpinnings and rock and cement structural elements. 
In 2017, six cremation plots were purchased for future interment.
 Eagle-Cliff-Miles Cemetery Trustee Charlotte Hoock complimented the Republic-Times for spreading the story of the historic cemetery's renewal, particularly to those who have moved away. As a result, the cemetery board has had financial contributions from across the county.
The commissioners took a step toward protecting the land around Eagle Cliff-Miles Cemetery, including the prairie land in front of the mausoleum, from outside use by approving an agreement with the Illinois Nature Preserve Commission, which will prevent future development for private use. Hopefully the process will be completed in May. 
The board members also approved several ordinances: one in accordance with Illinois Public Act 100-0554, adopting a policy prohibiting sexual harassment. Extensive training for all employees will begin in the new year. 
Another was an intergovernmental agreement between the village of Valmeyer and Monroe County concerning cannabis and drug paraphernalia in the village limits. It brings Valmeyer's laws and restitution in compliance with Monroe County, Waterloo and Columbia.
The board also approved $12,000 in funding for the State's Attorney Appellate Prosecutor. Jane McCarthy of Waterloo was reappointed to the Monroe County Nursing Home Memorial Endowment Association; 
Other appointments include James M. Hill of Fults to the Tourism Bureau Illinois South, Daniel Schumer to the Monroe County Assessment Board of review, and Dan Hannon to the Monroe County Local Emergency Planning Committee.
The following were reappointed to the Monroe County Emergency Planning Committee: Kevin Scheibe, Bill Hasty, Ann Rudolff and Mike Lloyd, all of Waterloo. Appointed to the Monroe County Regional Planning Commission were Charles Pittman, Joann Hartman, Nathan Brinkmann and Dale Papenberg, all of Waterloo; and Mary Neff, Valmeyer, Ronald Schultheis, Fults and Lisa Baczynski, all of Columbia.
Regular Monroe County Board meetings will resume Jan. 4, 2018, at the courthouse. Agendas are available online at MonroeCountyIL.org/Departments/Board-of-Commissioners.html, by clicking Agendas; they are also posted at the court house several days before the upcoming meeting.