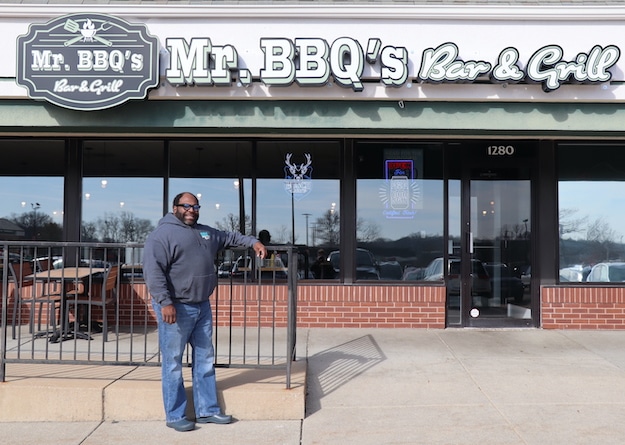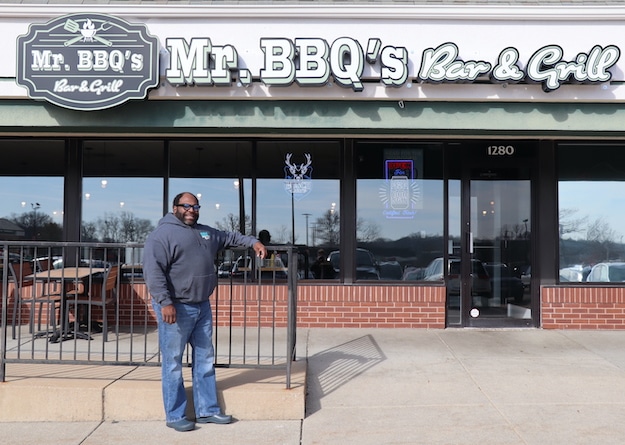 After bouncing from location to location in St. Clair and Monroe counties, Mr. BBQ has found a new home in Columbia, with a strong return to Waterloo also expected soon.
Mr. BBQ owner Kiwan Guyton said his experience in the restaurant business started at a very young age.
As a teenager, Guyton came from a struggling family. After he, his mother and his siblings moved from Washington Park to Belleville, he was able to find a job at the now closed Antique House.
Guyton occasionally found himself taking care of things in the kitchen on his own, serving standard bar food for restaurant regulars.
While Guyton said he didn't have much of a passion for cooking starting out, one random request from some of these patron's managed to change that.
"On this particular day, there were some guys out playing pinochle in the restaurant, in the bar area, and they told me they wanted something different," Guyton said. "I went and got meat and started barbecuing that day. Later that night, there was some barbecue left, there was a guy by the name of Kevin McDonald who was bartending, and he came in and tried it and called me 'Mr. BBQ,' and it's stuck ever since."
Guyton stepped away from the restaurant business in his late teens to pursue a career in law enforcement that continues to this day.
Even as he stepped away from restaurant work, Guyton still managed to find himself cooking as he wound up in the kitchen while working at a juvenile detention center.
His first big business venture was Mr. BBQ Rib Shack in Cahokia, which opened when he was 23.
Guyton's cooking there ended up being quite successful, though it did end up having a rather unexpected consequence down the line. He found himself seeing a doctor due to a wheeze – only to be told he needed to quit smoking meat for the sake of his lungs.
"That wasn't gonna happen," Guyton said. "At that point, that's when I'm coming into making a name, Mr. BBQ, for myself. Even as a young man, I already had a following. People in the village of Cahokia and from the surrounding area were already coming and patronizing my business or getting me to cater for special events, stuff like that."
Over the next few years, Guyton found himself moving between jobs and restaurant locations, running into some trouble with a major layoff in the midst of the 2008 recession.
He worked for some time as a patrol deputy in St. Clair County and also found himself subleasing a kitchen in Smithton, where he gained a number of employees who are still with him today.
Guyton also briefly operated a restaurant in New Athens.
His big move to Monroe County came in the summer of 2017, when Mystic Oak Golf Course reached out to offer him a spot in its recently vacated kitchen.
Guyton said the partnership between Mr. BBQ and Mystic Oak has proven to be hugely successful, with numerous catering opportunities as well as plenty of business from those traveling for golf.
That success saw major trouble in November 2021, as a fire in the Mystic Oak clubhouse left the Guyton's restaurant with severe flame, smoke and water damage.
He said that while he is someone who naturally saves money for a rainy day, the impact of that fire was extreme for his business and staff.
"This was more than rain, this was a typhoon, tornado all wrapped up into one," Guyton said, "and I just made the decision to pay those people out of my pocket because they had been so loyal to me. I thought 'You know what, God's blessed me to be able to do this, I'm gonna do it.'"
The Mr. BBQ location in Waterloo ended up being closed through the winter, with a return in the spring of 2022 that saw the business's dining space restricted to an outdoor pavilion.
In the months since, Guyton has been able to find another home at 1280 Columbia Centre in Columbia, with Mr. BBQ's Bar & Grill officially opening in November.
Guyton said he's pleased with the decision to try Columbia. Since opening, he's seen folks come to visit from a range of locations.
He attributes the business's success to a number of factors, lots of teamwork and sleepless nights among them.
The restaurant's cooking is very much a point of pride for Guyton, who said many customers have commented on the food's quality as well as the sense of nostalgia it gives them.
"Food here at Mr. BBQ, it awakens your soul," Guyton said. "It feeds your soul. I'll talk to people when they get done eating and they'll tell you, 'I haven't had food taste like that since I was a little girl.' It's just instilled in me."
Guyton spoke quite highly of his staff, with several individuals who have been with the business for years having recently been promoted to managerial positions.
Robin Schilling, another longtime employee, also earned a special mention from Guyton. Schilling recently passed away, though she still has a presence at the bar in the form of a robin figurine a customer brought in to commemorate her.
Looking to the future, Guyton is planning a full return to Mystic Oak in Waterloo this Saturday at 11 a.m.
The restaurant stopped regular service during the winter and has been undergoing interior repairs for some time.
Beyond the return to Mystic Oak, Guyton said he isn't sure where he might expand next as his previous venue changes have largely all been a matter of finding a location that was affordable and available.
Guyton noted he hopes to retire from law enforcement in the next few years as he turns 50. Guyton added that one of his biggest dreams would be to have a small location in St. Louis where he could serve folks during St. Louis Cardinals baseball season.
"I don't know where it takes me from here," Guyton said. "I never in my wildest dreams thought I would be in a community as Columbia or Waterloo running, if I can say, a successful business."