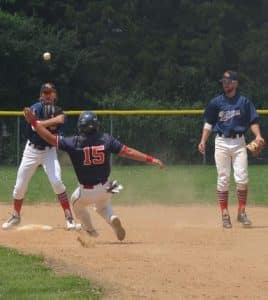 It was an action-packed weekend of baseball for the Mon-Clair League this past Saturday and Sunday, with all of the local teams doing battle against each other as the league schedule enters its final stretch.
The Waterloo Millers and Valmeyer Lakers were the big winners, each winning three of four games. Millstadt split its four games; Columbia lost 3 of 4.
The teams were anxious to see the field again following this year's rainout of the Valmeyer Midsummer Classic.
On Saturday, the Millers picked up two big wins against Millstadt to give themselves some breathing room in the Monroe Division race.
Andy Galle pitched a complete game and Brad Dillenberger came through with the game-winning RBI in a 2-1 game one victory at SPPS Field. Ethan Ruff and Craig Ohlau collected two hits apiece.
For Millstadt, Cal Kossina went 2-for-3 and Cory Renois took the tough-luck loss.
In the second game on Saturday, Waterloo got a scare when starting pitcher Noah Thaggard injured his left shoulder while covering first base on the first ball hit in the contest. Ben Klostermeier replaced Thaggard, going the distance in a 4-1 win.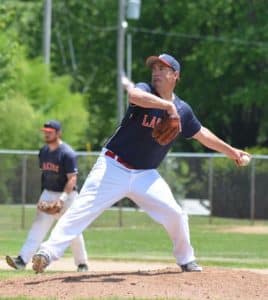 Thaggard's injury appears to be minor, Millers manager Vern Moehrs said.
Ruff and Ohlau were the offensive stars again, each collecting two hits.
Tony Kossina and Brian Lupa had two hits each for Millstadt; Cal Kossina took the loss on the mound.
On Sunday, the Millers hosted the Valmeyer Lakers for two on Customer Appreciation Day. The teams split the doubleheader, with Waterloo winning 4-3 in game one and Valmeyer taking a 7-5 victory in game two.
Ruff continued his hot weekend, going 3-for-4 with two stolen bases while scoring the winning run in the first game.
Ohlau's RBI single in the bottom of the sixth inning broke a 3-3 tie. Brad Dillenberger also went 3-for-4 in the win while adding stellar infield defense.
Austin Nunnery pitched a complete game five-hitter for Waterloo.
Andy Skaer took the tough-luck loss on the hill for Valmeyer. Jeremiah Bergheger went 1-for-3 with two RBIs for the Lakers.
In game two, the Lakers scratched across two runs in the seventh inning for a narrow win. Wes Degener went 3-for-4 with a triple, double and RBI. Fellow Gibault alumnus Mitch Meyer also had three hits, with Bergheger adding two hits and two RBIs.
Jacob Hill earned the win for the Lakers in relief of Mike Wuelling, with Justin Lilly coming on for the save. Corey Vogel took the loss for Waterloo in relief of Jeremy Rettig.
Waterloo catcher Luke Wetzler went 3-for-4 with a home run and three RBIs in the loss.
"We're kind of playing Whitey ball this season," Moehrs said of his Millers bunch. "We've been pretty strong defensively."
Waterloo (15-5) will play at the St. Louis Printers this Sunday, and currently holds a two-game division lead over Millstadt.
Valmeyer won both games of a Saturday doubleheader against the St. Louis Spikes, 3-0 and 10-5.
Lakers starter Andrew Bicklein pitched a complete game shutout in game one and Mon-Clair rookie Mark Nappier went 2-for-2 with a double and RBI.
In game two, Nappier added two more hits, as did Meyer and John Wuelling. Andrew Flett picked up the mound victory.
The Lakers are now 10-10 in league play heading into a Sunday doubleheader against Millstadt.
"Those are big games for both of us," Lakers manager Boog Pieper said. "We're playing pretty well right now, so hopefully we can keep it up."
Millstadt rebounded from Saturday's doubleheader defeat against Waterloo to trounce Columbia on Sunday, winning 16-6 and 22-2.
Rob Beatty went 3-for-4 with three RBIs, with Luke Matecki and Andy Barton adding two hits and three RBIs apiece for Millstadt in the first game.
It was more of the same in game two. Jared Mueth went 2-for-3 with a home run and four RBIs, Jeff Hightower went 2-for-2 with four RBIs, and Mitch Matecki went 3-for-4 with three RBIs.
Otto Roberts picked up the win for the Green Machine, which improved to 13-7 heading into Sunday's doubleheader with Valmeyer.
Columbia (6-13) will play two games this Sunday afternoon at Belleville.
All-Stars chosen
A number of local players will represent the Monroe Division during the Mon-Clair League All-Star Game set for Wednesday, July 13, at SPPS Field in Waterloo.
The Monroe All-Stars will take on the St. Clair All-Stars at 7:30 p.m..
Among the local players selected as starters for the Monroe All-Stars are starting pitcher Jeremy Rettig of Waterloo, Millers catcher Lucas Wetzler, Valmeyer third baseman Matt Reinholz, Lakers outfielder Wes Degener, and Millstadt players Rob Beatty, Tony Kossina and Mitch Matecki.
Reserve position players include Valmeyer's Ben Thoma, Waterloo's Ethan Ruff, Columbia's Adam Henke and Millstadt's Cal Kossina.
Other all-star pitchers are Nick Hummel of Waterloo, Millstadt's Otto Roberts and Cory Renois and Valmeyer's Andrew Bicklein and Andrew Flett.