Mon-Clair season winding down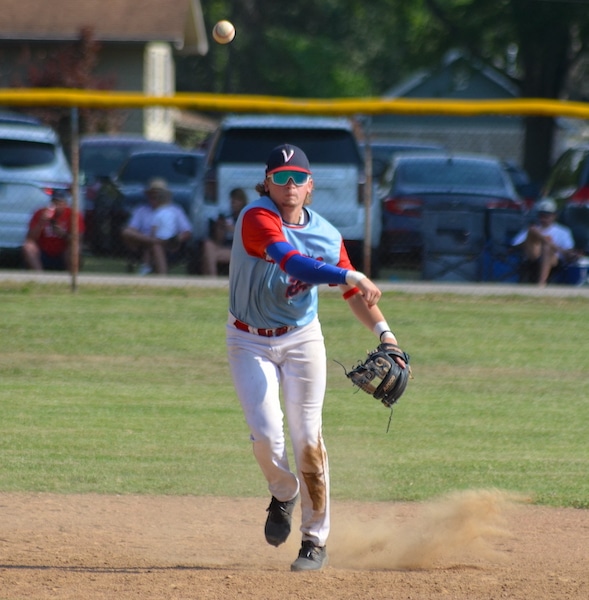 While the Valmeyer Lakers have likely clinched the top overall record in regular season Mon-Clair League play, two other local squads are aiming to improve their seeding ahead of the looming playoffs.
The Lakers (17-2) were awarded two forfeit wins over Cape Girardeau on Saturday, due to the Capahas not showing up for a scheduled doubleheader.
Valmeyer hosts the Edwardsville Stags at 1:30 p.m. Saturday, then welcomes the Waterloo Buds to Borsch Park for a Sunday afternoon doubleheader.
The Lakers, last year's playoff champions, close out their regular season with a doubleheader at Belleville on July 29.
The league playoffs begin Aug. 5.
Top players for Valmeyer this summer include Trevor Davis, Kenny Otero, Jacob Thompson, Jonah James, Matt Helm and Evan Davis.
Trevor Davis is hitting .404 with 18 runs and 14 RBIs in addition to posting a 4-0 pitching mark with a 1.26 ERA over 27 and one-third innings.
Otero is 3-0 with a 1.07 ERA in just under 20 innings pitched and is hitting .304.
Thompson is 3-1 with a 2.01 ERA in 24 and one-third innings pitched.
James is hitting .341 while playing solid defense at shortstop. Helm is hitting .306 with 16 RBIs, and Evan Davis is hitting .311.
To catch the Lakers in the win column, the second place Buds need to win out and hope the Lakers lose out.
Waterloo (11-7) won two of three games over the weekend.
On Friday, the Buds downed the St. Louis Spikes, 7-2. On Sunday, Waterloo won 11-2 and lost 5-0 to the Belleville Rockies.
Following this Sunday's doubleheader with the Lakers, Waterloo hosts Millstadt for two next Saturday and plays a twinbill at Edwardsville next Sunday.
The top pitcher for the Buds is Aidan Lougeay, who is 4-0 with a 1.54 ERA in 27 and one-third innings.
Leading the way offensively for Waterloo is Preston Wright, who is hitting .528. Waterloo infielder George Schneider leads the team with 16 walks and 14 runs.
The Millstadt Green Machine (10-10) split a Sunday doubleheader at home against Cape Girardeau.
Millstadt lost 1-0 and won 4-1. Joey Kossina suffered a tough-luck loss in the shutout, striking out seven and allowing two hits over six innings. Cal Kossina had two hits.
Cal Kossina pitched six innings in Millstadt's win.
Millstadt hosts Belleville for two this Sunday before closing out the regular season next Saturday at Waterloo.
Cal Kossina is hitting .478 with 19 runs and 16 RBIs for the Green Machine in addition to having a 3-2 pitching mark and 1.69 ERA in 20-plus innings.
Tony Kossina is hitting .403 with 25 runs, with Joey Kossina hitting .388 with 20 runs and 17 RBIs.