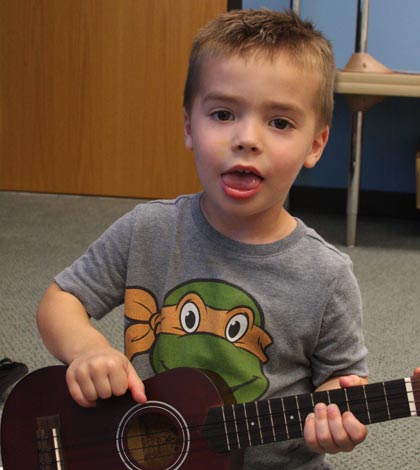 Three little ones gathered in a circle around teacher Suzanne Haubein recently as she navigated them to the start of their music lesson.
"OK, why don't we start out with a song? Are you guys ready?" the Columbia woman asked.
The kids watched her eagerly but gave no nods or verbal indicators as she began exercising her vocal chords.
"Dalton's here today! Dalton's here today! Let's all clap our hands and say, 'Hip hip hooray!'" Haubein repeated until she had included everyone in the class. 
The students who were in attendance are part of Hilltop Learning Center at Christ Community Lutheran Church in Columbia. In 2015, Haubein began her business of teaching music to children ages 3-5, with her first classes at the daycare.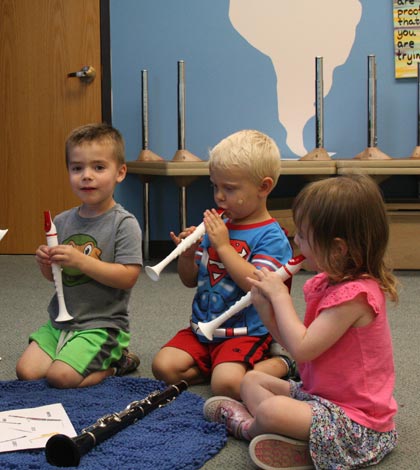 She has since expanded Mini Mozarts to include classes for children who are homeschooling in Waterloo and Columbia, as well as at Columbia Kinder College, Children First Learning Center in Waterloo, and the Monroe County YMCA.
She began offering classes at the Y this fall.
"We're growing at a comfortable rate for me," Haubein said, adding that she runs the business only on a part-time basis.
Two spots remain at the YMCA, with classes taking place from 9:15 to 9:55 a.m. on Tuesdays. Go to gwrymca.org or minimozartscolumbia.com for more information, or email minmozcol@gmail.com.
Haubein also noted that children not in the previously mentioned daycares can participate in her classes if those daycares approve.
Mini Mozarts was founded on the idea that children can increase their ability to learn basic concepts such as math when they are introduced to music at an early age. For instance, Haubein said every musical note has a mathematical value.
"I'll come up with fun names like 'Big Daddy Whole Note,' and show them that's equal to four beats or 'Mommy Half Note,' and that equals two beats. It's a hard concept to understand at that age, but they're at least getting familiar with it," she said.
Research further indicates that early exposure to music helps children identify sounds in speech to improve their language skills. In other words, Haubein's students are surely reaping a lot of benefits.
"(Mini Mozarts) fits our mission of having a loving learning environment perfectly. We are thrilled to offer Mini Mozarts to our children of Hilltop," Jenese Birk-Huebner, director of Hilltop Learning Center, added. 
Haubein also affords kids the opportunity to play with and learn the basics of many musical instruments. A recent sessions even included playing a childrens flute.
"Do you know how to blow out the candles of a birthday cake? Do you know how that goes?" she asked while demonstrating the action. "OK, let's all pretend like we're blowing out candles."
Haubein's background has lead her toward this endeavor, as she has directed the children's Christmas music program at Christ Community Lutheran since 2005. She also has been a member of the St. Louis Chamber Chorus for 20 years as a soprano.
Ultimately, though, the decision to start Mini Mozarts stemmed from a desire to go into business for herself. 
"I wanted something I could do where I could be my own boss. And I hadn't heard of anyone else starting something up like that," she explained.
So it began, and if this recent session is any indication, the children in the community are surely tickled by the notion that they can play with trumpets, flutes, clarinets, ukuleles, violins and the like.
"I try and introduce them to all aspects of music … There are a lot of different instruments they can play," she said. "I mean, they can try a trumpet if they want. That's not something children get to do very often unless they have it at home."