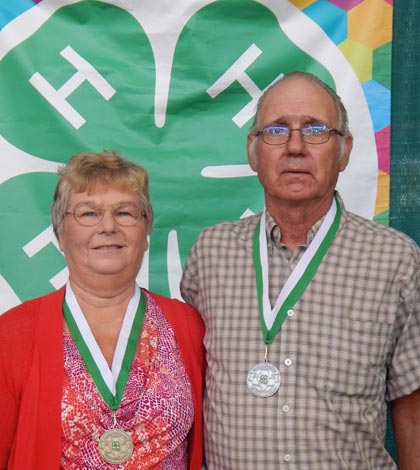 Perhaps not as widely known as some Monroe County 4-H volunteers, Joe and Sharon Marquardt gave their hearts to serving as leaders in the program for many years.
The Valmeyer couple oversaw the 4-H Moonlight Boys and Girls Club for nearly 10 years. Joe, 71, also took on the role of Monroe County Fair poultry and swine superintendent for a time, and Sharon, 68, worked for the U of I Extension office to help with the 4-H program for nearly 25 years.
The two serve as but one demonstration of how 4-H plays a major role in shaping the community. Now, thanks to a 2017 induction, their legacy will be preserved with their names added to the Illinois 4-H Hall of Fame.
Family and friends gathered at the Illinois State Fairgrounds recently for a ceremony honoring them for their achievement. Sharon said she was "very surprised," adding that many people congratulated them on Facebook.
"It surprised us," Joe agreed. "Just doing what we enjoyed. We didn't expect it."
As leaders of the Moonlight Boys and Girls Club, the Marquardts took the kids on educational field trips once a year, helped them train and care for their livestock, and held monthly club meetings.
"A lot of kids will come back and remember the days they spent in 4-H. It's not only raising livestock, it's self-confidence," Joe said. 
Since then, much has changed with the raising of livestock, and Joe has taken notice.
"When we were leaders, they went through the whole process and it took a year. Nowadays, they buy it and spend a couple months getting the animal ready," he said. 
When Joe served as poultry and swine superintendent, the two livestock showings yielded much less participation.
"The (fair association) was leery and didn't want to spend money for cages," Joe said.
"We borrowed the cages from other fairs until we were able to make some cages ourselves," added Sharon.
That's no longer a concern for 4-Hers, Joe recognized.
"Now it's one of the bigger entries in the fair," he said.
Sharon, while at the extension office, helped with 4-H enrollment, setting up shows, hiring judges, running shows and getting supplies together for various activities.
Before Sharon worked at the extension office, tragedy befell the Marquardts that the people of Valmeyer know all too well. The Flood of 1993 had ravaged their home, filling the structure with four feet of water. Their crops were also destroyed.
"That's why I started working there. We lost all of our crops, had no income," she said.
Sharon began helping with the extension office's afterschool program, which included Valmeyer school children, but also kids from surrounding communities. U of I Extension director Pam Jacobs said Sharon was a "natural fit" for the program.
"Sharon and her family were greatly affected by the flood waters like so many Valmeyer families, which gave school families a connection for a person they could relate and share stories and concerns," Jacobs said.
One of the most memorable experiences for Sharon through the afterschool program was the disaster relief children received after the flooding.
"Boxes of stuff came in for the kids from all over the country," she said. "I couldn't believe it."
The Marquardts are now enjoying life in the same home that was gutted and remodeled after the flood. And they hope to pass their love of agriculture on to the next generation.
"We're trying to get our grandkids involved. Got a few sows raised and I've mainly kept them to get the grandkids interested," Joe explained.