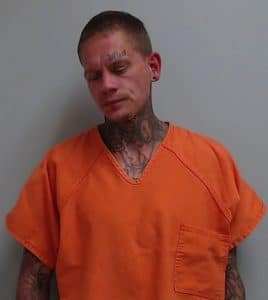 A Missouri man is facing multiple felony charges after he allegedly wrestled with a Monroe County Sheriff's Department deputy and fled during an early Sunday morning traffic stop on I-255 in Columbia.
Joseph A. Kovach, 31, of Festus, Mo., is charged with possession of methamphetamine, aggravated battery of a police officer, resisting arrest, disarming a police officer and obstructing identification.
The traffic stop occurred shortly after 2 a.m. on eastbound I-255. MCSD deputy Scott Schumer observed an orange Ford Mustang with Missouri plates occupied by two men swerving in traffic and pulled it over after noticing the car had an expired registration. The deputy saw a small amount of cannabis on the driver's lap and ordered him out of the vehicle.
Kovach, a passenger in the car, was also ordered out of the vehicle. While patting him down, the deputy observed a small plastic bag containing a crystal-like substance falling from Kovach's waist. Kovach attempted to run away, police said, after which the deputy grabbed his shirt. Kovach continued to resist and began swinging his arms, striking the deputy.
Police said Kovach also grabbed Schumer's radio cord and tried to pull off his duty belt in an attempt to gain control of the deputy's service pistol.
The deputy tried to wrestle Kovach to the ground, but the suspect's shirt came off and he broke away, running south toward a wooded area off the interstate. The deputy administered his Taser, but was unable to determine if it was successful due to the suspect being partially hidden in the woods.
Kovach continued to flee the scene, after which the deputy alerted other agencies to assist in a search.
MCSD deputy Justin Mendenhall and K-9 Sven tracked the suspect and eventually located Kovach lying on his stomach about one mile southwest of the interstate. Following another brief struggle, Kovach was finally taken into custody.
Kovach remains in the Monroe County Jail with bond set at $100,000.