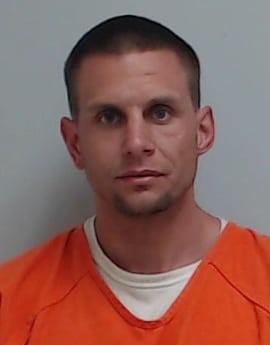 A Lenzburg man was charged with a felony following a Wednesday morning incident that started in Columbia and ended in rural St. Clair County.
Local law enforcement agencies were on the lookout for a white male in his early 30s who was driving an older model red Dodge Ram that fled from police following a trespassing incident in Columbia about 10:15 a.m. Wednesday. The man is believed to have outstanding warrants in Randolph and St. Clair counties.
The suspect vehicle reportedly drove through yards and ran multiple stop signs in Columbia before being spotted by a Monroe County Sheriff's Department deputy traveling east on Route 158. The truck fled the deputy's stop attempt and continued onto Gilmore Lake Road and was last seen in the area of Bohleysville Road at Dori Lane.
Police found the truck abandoned in that area and continued their search for the suspect on foot. A K-9 unit was dispatched to the area.
Shortly after 11:10 a.m., a woman called police to report a suspicious white male in a white t-shirt and holding an orange sweatshirt was seen looking into her husband's truck on Gilmore Lake Road.
Less than 15 minutes later, police reported that they had the man in custody near the Poetker dairy farm at 1060 Gilmore Lake Road.
Monroe County Sheriff Neal Rohlfing said his deputies heard Columbia dispatchers advise there was a female screaming hysterically during the initial call for an unknown type of disturbance and assisted in the incident.
Rohlfing said his department took the following information into consideration in its decision to pursue the vehicle:
1. At that time, deputies were not sure if any officers were on scene of the call for service where a female had been screaming, so it was unclear if anyone was injured or what crime was committed.
2. There was very little traffic on the roadway.
Deputies terminated the pursuit in the 5400 block of Bohleysville Road, Rohlfing said, after which they continued to monitor the suspect vehicle from a safe distance.
"After the arrest of the driver, an investigation was conducted and it was learned the Dodge Ram truck which the suspect was driving had been stolen earlier in the morning but had not yet been discovered or reported," Rohlfing said. "The suspect admitted to stealing the truck from Lenzburg."
On Friday, Monroe County State's Attorney Chris Hitzemann charged Lawrence P. Jouglard, 37, of Lenzburg, with possession of a stolen or converted vehicle, which is a Class 2 felony. Additional charges of criminal trespassing, fleeing/eluding police and driving with a revoked driver's license were combined with the more serious felony charge.
Bond for Jouglard was set at $75,000.
Hitzemann plans to seek Class X felony sentencing for Jouglard due to his habitual criminal history, the sheriff said.
This case was a joint investigation by the Monroe County Sheriff's Department, Columbia Police Department, Metro East Auto Theft Task Force and Lenzburg Police Department, Rohlfing said.
"This should send a strong message to anyone who thinks of committing a crime in Monroe County," Rohlfing. "The sheriff's department will work with the Monroe County States Attorney's Office to bring those who do commit crimes to face the consequences they have committed. The sheriff's department will continue providing assistance to all our law enforcement agencies within our county and neighboring counties when needed."