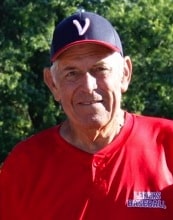 Denny "Boog" Pieper, who managed the Valmeyer Lakers of the Mon-Clair League for more than 50 years and was involved in county league baseball since 1962, died suddenly last Wednesday at the age of 73.
Services took place Sunday on the field now bearing his name at Borsch Park, where Pieper was part of countless memories. For his full obituary, click here.
Many people who shared in those memories viewed Pieper's open casket positioned in the Lakers dugout where he sat at home games, also viewing his jerseys worn over the years in between displayed newspaper clippings and photos from an extensive baseball life.
Following the visitation, Pieper's casket was moved to home plate for the funeral service, which was led by Zoar United Church of Christ Pastor RJ Morgan.
For a video of part of the service, click here. For pictures from the service, click here.
"His smile and warm demeanor could put everyone at ease no matter what," Morgan said of Pieper. "To say that he loved baseball was an understatement, right? His love for baseball was something that permeated his entire life. It was something he loved to share and I don't think there's any way that we could measure, any way of knowing the impact that his coaching and his mentorship had on so many young people as he shared his love of baseball with them… He worked hard. He played hard. He did everything with all of his heart."
Last November, Pieper was presented a Lifetime Achievement Award during the Mon-Clair League's annual banquet. A winner of seven MCL titles and five Valmeyer Midsummer Classic championships, he was inducted into the league's Hall of Fame in 1993.
Pieper was also a member of the St. Louis Amateur Baseball Hall of Fame and had served several years as head coach at McKendree University.
"Baseball has been very great to me," an emotional Pieper said during his acceptance speech at last year's MCL banquet. "It's been great because of friendships I've made. At the same time, it's been very rewarding."
Also at the banquet, Valmeyer village officials also announced the naming of the diamond at Borsch Park as Denny Pieper Field.
While Borsch Park did not host a Valmeyer Midsummer Classic tournament this Fourth of July due to COVID-19, Pieper was on hand to take in some Mon-Clair action on his field this summer – including the Belleville Rockies outlasting the Millstadt Green Machine in an epic extra-inning league championship final, 13-11.
Denny's younger brother Gary, who was also involved with the Lakers organization, passed away May 30 at the age of 71.
Their mother, Dorothy (nee Luhr) Pieper, survives.
"Condolences to all touched by Denny and his many years of dedication to the players and game he loved," Millstadt Green Machine manager Norm "Shorty" Toenjes posted on Twitter. "Few have played such a key role to their team, league and baseball in this area."
Legendary longtime Waterloo Millers manager Vern Moehrs shared similar reflections.
"Fifty years as manager, that's a great achievement," Moehrs said. "He started that tournament (Valmeyer Midsummer Classic) down there and my teams loved to play it. I don't think the rivalry (between Waterloo and Valmeyer) was big lately, but in the 80s and 90s, that was a tough rivalry."
Mon-Clair League ambassador and historian Art Voellinger, who was the league's inaugural Lifetime Achievement Award recipient, shared kind words upon Pieper's passing.
"I do not know if there are enough words to express appreciation for someone who was a friend to so many people," he said. "His receiving the Mon-Clair Lifetime Achievement award in 2019 was just another example of the respect he so deserved during so many years of being involved in sports. His efforts in inaugurating the Valmeyer Midsummer Classic in 1972 stirred others to contribute to a July 4th celebration that allowed me to express a simple accolade – 'The Best in the Midwest' – as related to the caliber of baseball and the level of the celebration.
"When I spoke with Denny last week, his health remained an issue," Voellinger added. "However, he remained optimistic that after COVID-19 moved on, he was eager to return to baseball – especially the Valmeyer tournament where his late brother Gary also had been involved."