Longtime PE teacher retires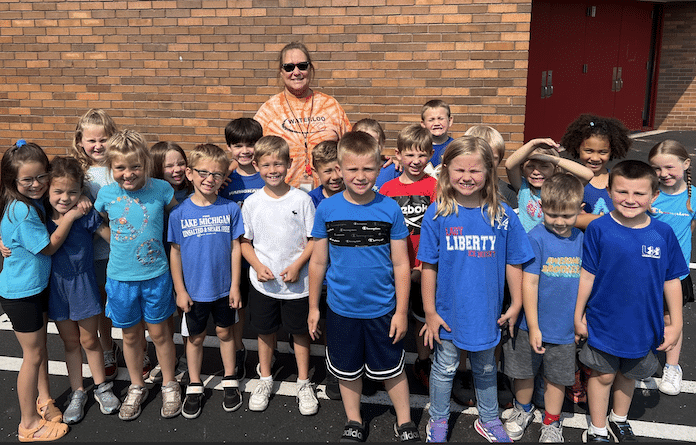 Zahnow Elementary's longtime physical education teacher is retiring at the end of the 2022-23 school year, marking the end of a 35-year career in both Waterloo and Valmeyer.
Karla Bivins was born and raised in Valmeyer, and it was there she first developed a love for athletic education.
She recalled how, at Valmeyer High School, she would often assist PE teacher Dale Rose with classes for the elementary students during study hall.
"Just helped him with games and activities and things like that, and I really enjoyed doing that," Bivins said.
That work eventually grew when she was asked to help coaching junior high volleyball, and her love of youth sports blossomed from there.
Bivins would later find herself following in the footsteps of her own PE teacher as she pursued a career in education at Greenville College.
"I just kinda fell in love with working with kids and coaching, and so it was through Mr. Rose – who had gone to Greenville College – he kind of persuaded me to follow that path and become a teacher," Bivins said.
After graduating, she returned to Valmeyer where she taught for 11 years, also coaching volleyball and softball as well as serving as the girls athletic director, athletic club and pep club advisor and bus driver for the sports teams.
She eventually made her way to Zahnow so she could be a bit closer to her kids, who were attending Waterloo schools at the time.
Bivins' career remained consistent at Zahnow, teaching PE while serving as volleyball and softball coach – later stepping away from softball to also coach junior high volleyball.
It was around 2009 she decided to step away from coaching, only to get sucked back in when she was approached about an assistant coaching position in Valmeyer.
This position would eventually lead to her serving as head volleyball coach up to today.
Bivins spoke quite positively about her time as a teacher, speaking particularly fondly of the atmosphere and opportunities provided by smaller schools.
For her, seeing her small group of kids end up earning scholarships or simply demonstrate their love of a certain sport was a wonderful experience – no matter how well they performed each season.
She further spoke to the benefits of a small school like Valmeyer, as she might not have developed the same love of education and coaching by attending a different school.
"Today at Valmeyer, there are kids who maybe are thinking about going into education, and they'll use their study hall time and help teachers down in the elementary building," Bivins said. "A small school does have certain advantages, especially when the building's K-12."
Bivins' attributed the immense fondness for her job to the love she had working with young kids, particularly in regard to seeing them grow over the years.
"Seeing them progress as students and athletes and individuals is just something that makes me proud to know that I knew those kids when they were five and six years old, and it's just nice to see them grow into young adults," Bivins said.
As Zahnow's PE teacher, Bivins also oversaw the school's participation in the annual American Heart Association Kids Heart Challenge, previously known as Jump Rope for Heart.
Over the years that Bivins taught at Zahnow, the elementary school was able to raise $348,731 for the initiative. Including her time overseeing the program for the Rogers Elementary second grade class, that total rises to $466,331.
AHA Youth Market Director Renee Ades has worked with Bivins for over 20 years thanks to the Kids Heart Challenge.
She commended Bivins for her accomplishment, noting Zahnow's $39,064 raised this year set the school among the top earners both within the state and region as well as in the top 75 in the nation – an especially impressive feat given the small size of the school.
Ades spoke highly of Bivins, describing her as a dear friend and "just a good human."
"I think she's beloved by so many people there in Waterloo and actually just in Monroe County in general with her affiliation with Valmeyer school as well," Ades said. "Karla has just a really big heart."
Zahnow Elementary Principal Justin Imm offered similar praise for Bivins, noting her passion for teaching and the impact to the school to say goodbye to someone who's been there for 24 years.
"There's obviously gonna be some big shoes to fill with all that she's done with the Kids Heart Challenge, getting all of the students active every day," Imm said. "She's always one of the first to be here, smiling, happy."
Bivins said she hopes to make good use of her newfound retirement free time, with plenty of reading and traveling to do.
She also still plans to continue coaching volleyball in Valmeyer for a few more years, even considering subbing in the future – though she'll have to take it easy after so many years of running around with elementary students.
"I'm not gonna just sit around and do nothing," Bivins said. "I may eventually do a little subbing. But I'll tell you what, as a PE teacher, the wear and tear on the body is pretty intense."