Longtime CVFD member passes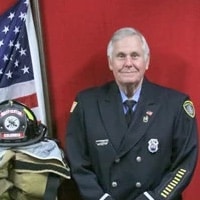 A volunteer fireman in Columbia for 60-plus years passed away last week at the age of 84.
Richard Dreher served as a proud member of the Columbia Volunteer Fire Department since 1961. He was a large part of refurbishing efforts for the department's historic 1927 Studebaker Fire Truck, which can be seen in community parades.
In addition to this service, Dreher was a member of the Columbia Gymnastic Association and taught turning school for 50 years. He was also a member of the Knights of Columbus and Columbia American Legion.
He served his country in the U.S. Army Reserves.
Dreher was recognized as the CVFD's Volunteer Firefighter of the Year in 2021, during which several kind words were expressed in his honor.
"On Nov. 1, 1961, a young man named Rich Dreher decided he wanted to join some friends to serve and protect his community," Columbia Fire Chief Mike Roediger said then. "No one knew at that time what an impact he would have on so many people."
Roediger added that Dreher was chairman of the department's Muscular Dystrophy Fund Drive for 24 years. During this time, he helped raise $86,511 for Jerry's Kids to help fight Muscular Dystrophy.
"If there was an event in which the Columbia Volunteer Fire Department participated in, one thing you could count on is Rich would be there – the first to be there and the last to leave," Roediger said.
The fire chief added then that the CVFD had grown into a brotherhood, with Dreher's dedication being a huge reason as to why.
"In my opinion, Rich is the epitome of dedication," Roediger said.
Visitation is from 2-8 p.m. Friday at Leesman Funeral Home in Columbia and 9-10 a.m. Saturday at Immaculate Conception Church in Columbia.
A funeral service is set for 10 a.m. Saturday at the church.
Memorials may be made to Columbia Volunteer Fire Department, 1020 N. Main St., Columbia, IL 62236 or to Columbia Gymnastic Association, 211 E. Cherry Street, Columbia, IL 62236.