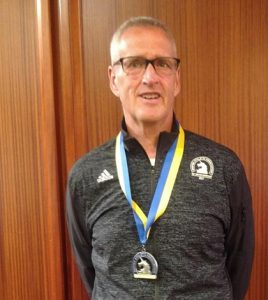 Two local runners went the distance on Monday when they ran in the 2017 Boston Marathon.
Russ Hart and Rosemary Leingang, both of Columbia, are not unfamiliar with marathon running, but both experienced their first trek over "Heartbreak Hill" — a hill Boston Marathon runners reach at the 20th mile of the race with a half-mile incline.
Hart, 58, has run nine marathons and "hit all the marks" during his training. He enjoyed the overall experience but was disappointed with his results in the race, finishing with a time of 5:18.41. But, he did finish.
"At some point, you feel you can hardly even go on, but then I thought, 'There's no way I'm giving up this medal,'" he said.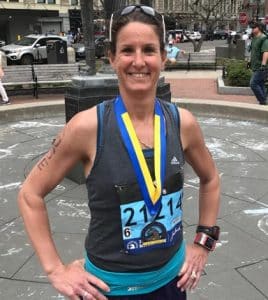 The Gibault Catholic High School principal qualified with a time of 3:29.11 in the 2015 Memphis Marathon. He had qualified for the more-than-26-mile run once before but chose not to run.
"This time I thought, 'I don't know how many more times I'm going to be able to qualify, so I'm going to do this,'" he said.
The crowd of people who came out to cheer on the runners, whether it was friends and family or just marathon fans, was one of the more encouraging aspects, he expressed. Hart also said people continue to show a great deal of pride in the race after the 2013 bombings that killed three people and injured more than 260.
"(Saturday), before the marathon, was the fourth anniversary of the bombings. Everyone got together and there was that moment of silence," he said.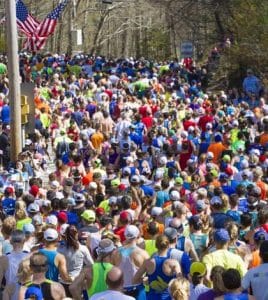 Hart also noted flowers arranged throughout the area to memorialize the victims, as did Leingang.
"It's pretty emotional," she said.
Leingang, 45, finished the race with a time of 3:44.20, having qualified with a time of 3:44.45 during the 2015 Missouri Cowbell Marathon. She placed 310th in Boston in her age group and 10,981st overall out of 32,000 runners.
"I'm pleased with my results," she said, but noted she was shooting for a time of 3:30.
The Columbia Middle School counselor and girls track coach said the 70 degree weather presented a challenge, and perhaps prevented her from reaching her goal. Hart said that even mild, sunny temperatures are a burden for long distance runners.
"The heat was a determining factor," Leingang said. "It's just not optimal for running a marathon."
Asked if she plans to pursue any bigger challenges, such as an Ironman triathlon, she laughed and replied, "Not sure about that. To be determined."
As for the Boston Marathon, this year's time qualified Leingang should she decide to run again next year. She is also mulling that over.
Hart said he is looking forward to resting the next couple of weeks, and is not at this point concerned about continuing to run in marathons.
"I promised my (family) that this would be it. It takes up a lot of my time, and I have plenty of other things on my plate," he said, while admitting that it would be tough to go out on what he considers a bad note.
As he tendered his resignation, so to speak, his wife chuckled in the background, weighing in with her thoughts.
"She says this isn't going to be my last one. It's tough, because I'm so competitive," Hart said.