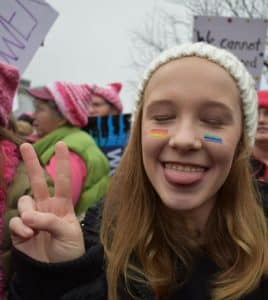 Whether they witnessed the 45th presidential inauguration or the Women's March on Washington last week, Monroe County residents who attended agree that they experienced a part of history.
"I saw thousands of very, very happy people — people who feel their voices are heard and their opinions are valued," Waterloo resident Johnny Caupert said of the inauguration.
Caupert, who traveled to Washington last week as executive director of the National Corn-to-Ethanol Research Center, received an invitation to the inauguration through Paul Dickerson, former U.S. Department of Energy chief operations officer.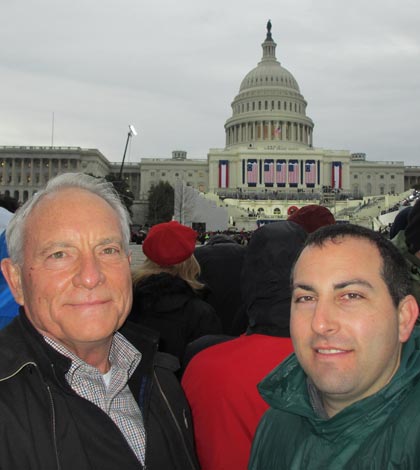 Caupert stood dead center of the inauguration stage from a distance of about 150 yards. The experience for Caupert included a crowd of civil, friendly and polite people in which "everybody made a friend." His favorite part of the inauguration was the "sports venue atmosphere."
"Honestly, I was taking this stuff in versus participating in it," he said. "What I saw overwhelmingly was respect for the president."
At 12:01 p.m. last Thursday, precisely as scheduled, Republican Donald J. Trump took to the podium to recite the oath of office, hours after the Capitol had been opened to people attending the inauguration.
"Today, we are not merely transferring power from one administration to another or from one party to another," Trump said during his inaugural address. "But we are transferring power from Washington, D.C., and giving it back to you, the people."
Caupert said he didn't worry about arriving to the ceremonies until close to 11 a.m.
On the other hand, another group from Monroe County arrived as early as 6:30 a.m. These residents stood waiting for about five hours in a slightly closer position to the stage than Caupert.
Keith Kolmer of Waterloo, who serves as vice chairman of the Monroe County GOP, traveled to D.C. with Ken Hartman, Chip Bieber and Bieber's son-in-law, Phil Newman. The four received invitations from U.S. Rep. Mike Bost (R-Murphysboro).
"The crowd was really good that day," Bieber said. "It didn't matter who you are or where you're from."
Following Trump's swearing in, Hartman took in 16-year-old performer Jackie Evancho's singing of the National Anthem. Evancho competed on the TV show "America's Got Talent" at the age of 10.
"The girl that sang the National Anthem — that's probably the best sung National Anthem I've ever heard in my life," Hartman said.
The group also attended the Illinois State Society 2017 Inaugural Heartland Ball, the 2017 Inaugural Gala Celebrating American Agriculture and the inaugural parade.
Women's March
On the day after the inauguration, women, supportive husbands, civil rights activists and the like marched down Pennsylvania Avenue in defense of their civil liberties.
Jon Weatherfield of Waterloo, his wife Candace and daughter Madison were among the estimated half million people at the Women's March on Washington. According to Weatherfield, demonstrators gathered at the corner of Independence Avenue and Fourth Street — five hours before the start of the march — and traveled down Pennsylvania Avenue to the White House.
"Obviously, it's my first march so I didn't know what to expect," he said.
Weatherfield said that in attending the march he felt everyone, including police and camera crews, showed respect and kindness toward each other.
"My Conservative friends were like, 'watch out for those crazy anti-Trump people,'" he said. "It couldn't have been more of the opposite."
The event included a long list of speakers from singer Madonna to filmmaker Michael Moore and actress Scarlett Johansson.
"They made a special note to thank all the men supporting the women there. They said this isn't just a march for women. It's a march for civil rights," Weatherfield said.
The historical significance of marching down Pennsylvania Avenue was not lost on Weatherfield.
"You're on the same street that Martin Luther King marched on. You're on the same street that JFK's casket was carried down. To think, we were just on that street," he said.
Martin Luther King led a March on Washington for Jobs and Freedom in 1963, which included more than 200,000 demonstrators. King gave his famed "I Have a Dream" speech during this event.
"It was more of an emotional experience than I thought it would be," Weatherfield said.
Former Monroe County Circuit Clerk Sandy Sauget and her daughter, Courtney, also participated in the march.
Women's marches also took place in St. Louis, Chicago, Oakland, Calif., and across the country, with crowds estimated in the thousands in each city.
"Peaceful protests are a hallmark of our democracy," President Trump posted on Twitter in response to the marches. "Even if I don't always agree, I recognize the rights of people to express their views."