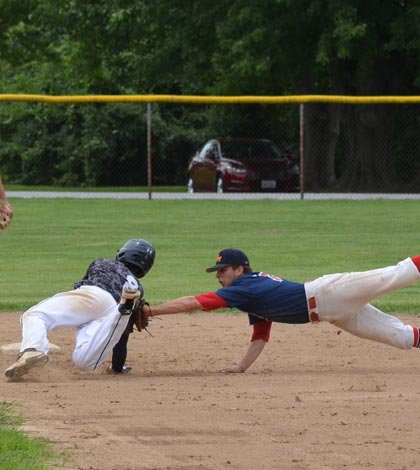 The Mon-Clair League playoffs began this past Saturday and will conclude with the championship series this weekend in Belleville.
Unfortunately, neither of the two teams playing for the title will be the Waterloo Millers, Valmeyer Lakers or Millstadt Green Machine. All three local squads ended their seasons with losses over the weekend.
So, it will be the Belleville Rockies against the St. Louis Spikes for the Mon-Clair League postseason championship.
Belleville outlasted top-seeded Waterloo on Sunday, 4-3, in what was a well-played semifinal game by both sides.
The Rockies struck first, scoring a run in the opening frame on back-to-back doubles off Millers ace Andy Galle.
Belleville added another run in the third inning and led 2-1 going to the seventh inning. The Millers tied it at 2-2 in the seventh by executing a delayed steal with runners on first and third. The Belleville catcher's throw sailed into centerfield, allowing Waterloo to score.
The Rockies would not be denied on this day, however. Belleville's ninth place hitter smacked a clutch two-run home run in the eighth inning to put them on top for good.
Waterloo plated its third run in the eighth inning, but would get no closer.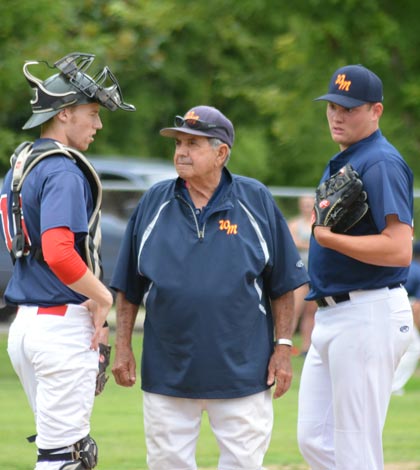 "We hit the heck out of the ball all day, but not many were hits," Millers manager Vern Moehrs said.
Galle, who posted a 7-1 record with a 1.91 ERA during the regular season, went seven innings for the Millers. Jeremy Rettig pitching the final two innings in relief.
"In the end, we were one run short," Moehrs said. "I woke up the next day and we were still one run short. It was just a nice ballgame with good defense by both teams. Tip your cap to them."
On Saturday, the Millers received strong starting pitching from Ben Maurer en route to an 8-1 victory over the Charleston Riverdogs at Borsch Park in Valmeyer.
Maurer, a 2017 Waterloo High School grad, allowed just one hit through six innings before the Riverdogs finally got to him with a run in the seventh.
Waterloo got on the board in the fourth inning without the benefit of a hit. Chandler Purcell reached on an error, and then a groundball off the bat of Mike Hardin was booted by the secondbaseman. Craig Ohlau grounded out to first, advancing both runners. Waterloo catcher Lucas Wetzler hit a sacrifice fly, scoring Purcell.
An RBI triple off the bat of Mitchell Krebs, followed by a sac fly from shortstop Brad Dillenberger, put the Millers up 3-0 after five innings.
The Millers took advantage of walks, errors and more timely hits to pull away in the later innings and advance to Sunday's semifinal.
The Millers end their season with a league record of 22-4 and another Monroe Division title. Their overall record was 29-7.
"I was more than pleased with our season," Moehrs said. "We had a young bunch of guys who played the game right. I enjoyed it.
"If the river doesn't rise and the good lord lets me, I'll be back again in 2018," the legendary longtime manager promised.
Among the offensive leaders this season for Waterloo were Krebs (.421, 22 runs), Dillenberger (.400, 19 runs), Ohlau (.388), Wetzler (.368), Purcell (.368, three home runs, 22 RBIs) and Keegan Baxmeyer (.351). Trevor Davis hit .444 in limited at bats.
The Valmeyer Lakers ended their season with a 9-5 defeat at the hands of the St. Louis Spikes on Saturday. Valmeyer trailed big early but had cut the lead to 6-5 in the seventh inning. That's when Mitch Thomas smacked a three-run homer to give the Spikes some breathing room.
The Spikes advanced to this weekend's championship series against Belleville by taking down last year's playoff champion, the St. Louis Printers, 7-4, on Sunday.
Valmeyer had plenty of offensive talent this summer, just not enough pitching. The Lakers started the season 0-9 before winning 14 of 17 to close out the regular season.
"We had a great second half and I was pleased with the team's play overall," Lakers manager Boog Pieper said.
Leading the Lakers offense this season were Matt Reinholz (.448, 21 RBIs), Mitch Meyer (.438, 22 RBIs), John Wuelling (.419), Wes Degener (.407) and Cameron Touchette (.405, 29 runs).
Millstadt's season also came to a close Saturday, falling 2-1 against eventual championship series participant Belleville in a nailbiter.
The Green Machine was led offensively this summer by first baseman Rob Beatty (.440, 29 RBIs, 26 runs) and shortstop Tony Kossina (.415, 23 runs).
The best-of-three championship series between Belleville and the St. Louis Spikes begins 1:30 p.m. Saturday at Whitey Herzog Field in Belleville, followed by game two at 3:30 p.m.
A deciding game three, if necessary, takes place 2 p.m. Sunday.
Key players for Belleville include starting pitcher Jake Turner (7-2, 1.94 ERA) and sluggers Mike Breyman (.484, four home runs, 27 RBIs), Nick Van Osdale (.443), Dylan McEwen (.406), Ryan Steen (.385, three home runs), and Dan Munoz (.365).
Key players on the Spikes include pitchers Andrew Kuhlman (4-0, 2.15 ERA) and Trae Lee (3-2, 4.90) and hitters Lee Cruz (.494, five home runs, 34 RBIs), Adam Springmeyer (.416, 38 runs) Jordan Amos (.404) and Mike Luczak (.400, 24 RBIs).