Local hockey teams victorious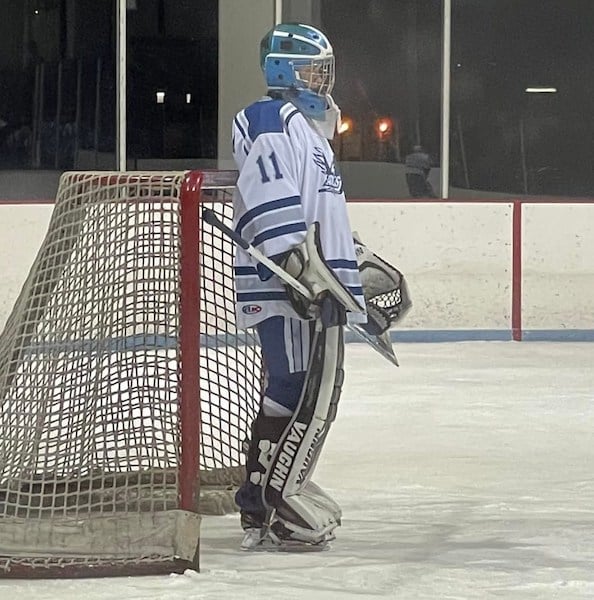 Both local high school club hockey teams posted victories last week as the season starts to round into shape.
The Freeburg-Waterloo Raging Bulldogs are 3-1 on the young season following two more recent wins.
Last Tuesday, the Raging 'Dogs blasted Bethalto to the tune of 11-0. Conner Blair netted a hat trick and contributed a pair of assists. Austin Hopfinger added two goals for Freeburg-Waterloo.
On Thursday, Freeburg-Waterloo dropped double digits on Highland in a 10-0 victory. Ryder Neff got the hat trick this time and also had an assist. Blair added a goal and four assists.
Entering play this week, Blair led the Mississippi Valley Club Hockey Association in scoring with five goals and seven assists.
Freeburg-Waterloo faced Highland again on Tuesday, then battles Granite City at 7 p.m. Thursday at the Granite City Ice Rink. The Raging Bulldogs battle Collinsville in Granite City at 7 p.m. Monday, then take on Alton at 7:45 p.m. Tuesday in East Alton.
Columbia improved to 2-1 on the season with a 5-2 win Thursday over Vianney. The Eagles were led by Jack Reuss with three goals and an assist. Rece Sanderson added a goal and two assists.
Dalton Fitzgerald made 30 saves in net for Columbia.
The Eagles battled Belleville on Tuesday, take on Edwardsville East at RP Lumber Center in Edwardsville at 7 p.m. Thursday, and then go against Granite City at Granite City at 9 p.m. Monday.
Reuss leads Columbia in scoring with eight goals and two assists on the young season.