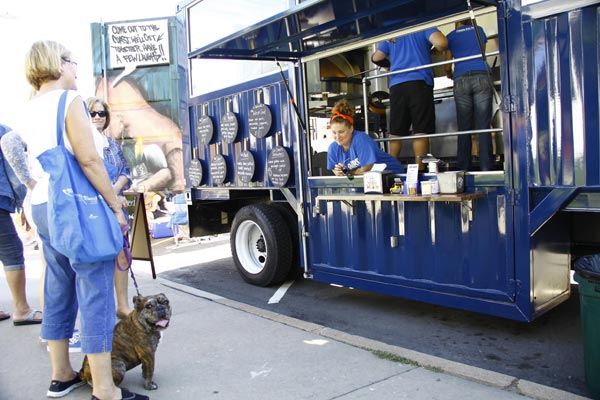 Yippee-ki-yay!
A new pizza food truck business in the area called Pie Hard opened in August, and the two locals who bought into the venture are enjoying modest success.
Megan Keefe and Michael Pastor, both of Waterloo, coined the name out of deference to their favorite movie, "Die Hard." This 1980s Bruce Willis film involves a New York police officer going lone gunman on a group of terrorists while trapped inside a Los Angeles building with no help on the way.
"We were sitting around one day with a notebook and writing down different ideas for the name. And I said we should try to come up with a pun, and we both love 'Die Hard,'" she said. "So, that's how that got started."
The fun didn't stop there for Keefe and Pastor, who then decided also to have the scene from "Die Hard" with John McClane crawling through the building's air ducts painted on the back of their food truck.
However, Pie Hard is more than puns and a reminder of one of the greatest movies of the 20th century. The pizza that Pastor, a longtime chef who has worked at fine dining restaurants in Chicago and St. Louis, has whipped up for the business has garnered a lot of attention.
Listed on the website are five different pizzas in the regular rotation, including The Queen, made with classic red sauce, basil and mozzarella, or the The Vladi — a meatball pizza with vodka sauce, pickled shallot, rosemary and mozzarella. Keefe said some of the more creative options seem to appeal to a specific crowd.
"Some people aren't really willing to try something different than they're used to," she said. "But usually, the ones that try the creative pizzas say, 'OK, a pizza can be good if it's not just red sauce and meat."
For those who can't wrap their head around a pizza that models itself after a Cuban sandwich, Keefe said they have started providing a traditional pepperoni pizza.
"That's by far become the most popular," she said.
Customers can also expect to receive their orders in less than five minutes, with a pizza taking 90 seconds to cook in an 800 degree oven and in an open kitchen that allows people to see the food being prepared. But such efficiency does lead to running out of food in a short time frame.
"Our dough is fresh and we can only fit so much of that in our truck at a time so we can feed about 90 to 120 people per day," she said.
That means those interested in getting a slice should arrive early, and even then, expect to wait in line. The food truck's kitchen is stationed at 8201 W. Main Street in Belleville.
Keefe, who manages the business side of the food truck, and Pastor can be seen serving up pizzas in different locations around the St. Louis area. They also cater to private events such as birthdays or bridal showers.
To view a schedule of events for the food truck, follow Pie Hard on Instagram or click here. The truck will be at the final concert of the Waterloo Chamber's Downtown Concert Series from 6 to 9 p.m. Oct. 14. Additionally, Pie Hard will be at Stumpy's Spirits at 1727 Centerville Road in Columbia from 4 to 11 p.m. this Saturday for Stumpy's Fall Festival.
The truck has been at some of the previous downtown concerts in Waterloo, and Keefe said locals have shown great support for the business.
"Everybody we talk to can't wait for us to be here more," she said. "We've been getting a lot of great feedback at the concert."
If you don't already receive the Republic-Times newspaper, subscribe to the print or online editions by calling 939-3814 or clicking here, or pick up a copy at any of these locations.