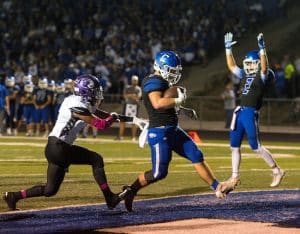 Columbia won its homecoming game in exciting fashion while Waterloo ran into a buzzsaw at Highland in Friday night football action.
The Eagles traded scores with Cahokia Conference rival Breese Central all night before finally emerging victorious, 30-26.
In his first game back from a knee injury, Columbia senior running back Colton Byrd carried the ball 33 times for 175 yards and two touchdowns. He tied the school's career rushing TD mark in the process with 41 scores.
Fellow senior Jordan Holmes — the school's career receiving yards leader — caught two touchdown passes to put the Eagles up early at 14-0 in the first quarter.
Central wouldn't go down without a fight, however, quickly tying the game at 14-14. Byrd's first TD of the night gave Columbia the lead again at 21-14 in the second quarter, but a Central score just before halftime made it a 21-20 game.
Central struck first in the second half with a TD to go up 26-21. A Jared Germain field goal inched Columbia closer at 26-24 before Byrd ran it in again to give the Eagles a lead they would not relinquish.
Central got the ball back with less than a minute remaining in the contest, but a Holmes interception sealed the deal for Columbia, which improved to 5-2 on the season.
Holmes caught 10 passes from sophomore quarterback Nic Horner for 170 yards.
Waterloo falls at Highland
Waterloo lost the Battle of the Bulldogs at undefeated Highland on Friday night, 64-28.
The orange-and-black Bulldogs got off to a good start against one of the state's top teams, with a Tyson Roedl field goal putting Waterloo up 3-0 early in the first quarter.
But Highland quickly scored two TDs to close the first quarter up 14-3, and it was mostly downhill from there.
Down 21-3, Waterloo quarterback Graham Baker hit his favorite target, Jackson Ivers, for a TD score in the second quarter. The 'Dogs trailed 24-10 at halftime.
There wasn't much for Waterloo to cheer about in the second half, though, as Highland posted 40 more points to pull away.
One bright spot for Waterloo in the second half was the running of Arren Wayland, who scored on runs of 73 and 45 yards in the third quarter.
Waterloo's Bryce Kirk was transported to the hospital following a hard hit to the rib area.
With the loss, Waterloo (3-4) must win its final two games at home against Triad and Mater Dei to qualify for the playoffs.