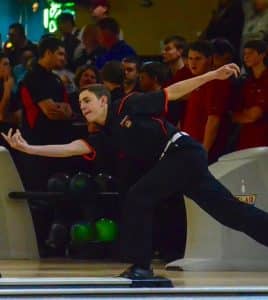 The Columbia boys bowling team placed third at Monday's Belleville East Regional to advance to the sectional round to be played this Saturday in Collinsville.
Waterloo's Aaron Link and Ryan Matzig, Gibault's Matt Wolf and Dupo's Cody Putnam will be joining the Eagles in sectional competition. All four qualified as individuals.
Columbia rolled a six-game total of 6,327 at Bel-Air Bowl in Belleville, good for third place behind Belleville East and O'Fallon. The regional was played Monday after icy weather had postponed Saturday's event.
Leading the way for the Eagles was junior Cade Stein, who rolled a 1,312 over six games (218 average). Sophomore Seth Harris rolled a 1,266 over six games (211 average). Jacob Amos (217 average) and Sean Jerome (205 average) also posted strong five-game efforts.
Link rolled a 1,297 for the Bulldogs (217 average), who placed eighth as a team. Matzig rolled a 1,240 (208 average), including a 258 game.
Wolf rolled a 1,247 for the Hawks (208 average), who placed ninth as a team.
Putnam rolled a 1,231 (205 average) for the Tigers, who placed 11th as a team.
The sectional round takes place this Saturday at Camelot Bowl in Collinsville, with the top teams and individuals advancing to the IHSA state bowling tournament to be played Jan. 27-28 at St. Clair Bowl in O'Fallon.