Local artist gets Eisner nomination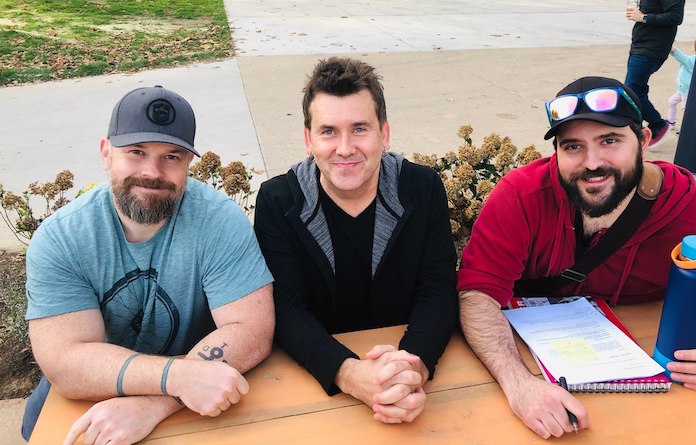 While not as widely recognized as the Academy Awards, the most prestigious accolade in comics, the Eisner Awards, are set to be announced later this week at the annual San Diego Comic-Con.
One of this year's nominees for best new series, "The Atonement Bell," was co-created by one man with local roots.
Illustrator Tyler Ruff was born and raised in Waterloo, going through Waterloo schools before receiving an art degree from Illinois State University.
Ruff said he's always had a deep fondness for comics ever since he received a Sonic the Hedgehog comic for kindergarten graduation.
"It was love at first sight. It's kinda how my brain works, in pictures and words," Ruff said. "It was kind of the perfect marriage of the two. It's how I interpret and regurgitate the world."
While Illinois State didn't have an art degree really suited to him, Ruff said he was able to work with a number of professors who were able to cater to his illustrative interests.
This education, as well as work on his ongoing series "The Unforgiven," helped give Ruff the background needed to contribute to his Eisner-nominated book.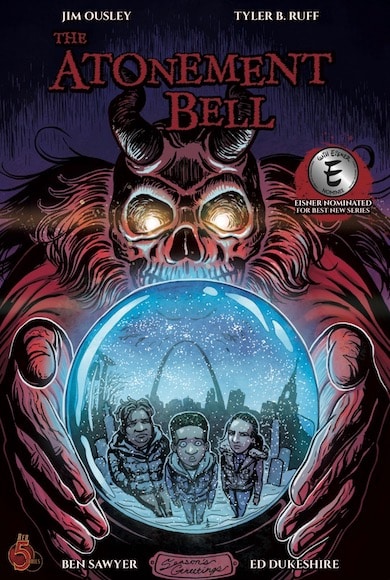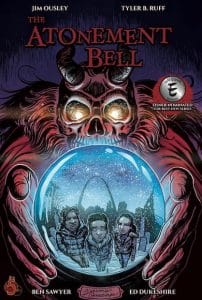 Jim Ousley is the writer for "The Atonement Bell." Having grown up in St. Louis, he wanted to accurately capture the city he's long called home and described he was quite happy to find a fellow metro-area local in Ruff.
Ousley got his start in comics through the Ink and Drink Comics collective based in St. Louis, though he said he's also had other writing experience in magazines.
He and Ruff recalled how they met at All American Comics and Collectibles back in summer of 2021. The two had tables set up beside one another as they were present for Free Comic Day.
Ousley described seeing Ruff's art and, having recently lost his original artist for "The Atonement Bell," took immediate interest, particularly in Ruff's ability to draw convincing facial expressions.
"I saw his work and was really impressed with his facial acting that he seemed to excel at in his pieces," Ousley said. "For 'The Atonement Bell,' a lot of it is characters talking, having conversations and moving the plot forward, and it was really essential to have an artist that had a great grasp on emoting, which is actually, it can be difficult to find an artist who is so good at that."
Expression is an exceptionally important part of an emotional and character-driven story like "The Atonement Bell." Ruff spoke with a similar passion for this aspect of his artistic work.
"It's really important that all of the characters faithfully express the kinds of emotions that they're going through, and I take a certain amount of pride in that accuracy," Ruff said. "It's really important to me that a character in distress looks like they're in distress. Nothing hurts me more than when I look in a comic book and the emotions on this character's face don't match the words coming out of their mouth."
"The Atonement Bell," as Ruff and Ousley said, centers around a Black family in St. Louis as they find themselves in the crosshairs between a witch coven and the Catholic church.
Ousley explained that his idea for the story – on top of his interest in horror – came largely due to his own experience in Catholic education.
He said that, as he grew up and spoke with many former high school classmates, he found a proclivity among some religious individuals to use their faith to justify their "unfortunate perspectives."
Ousley specifically mentioned racial prejudices, but more generally described how some use religion as a shield or justification for prejudice.
"Ultimately, what 'The Atonement Bell' is about is what happens when you use religion as not something to express gratitude but you use it as a weapon to protect and embolden your personal prejudices and things of that nature," Ousley said.
Ousley also noted that, beyond the comic's themes, it's also just a fun ghost story for readers to enjoy.
He added he wanted to depict St. Louis differently from how it's often shown in media.
As well as highlighting the city's diversity – Ousley noted St. Louis' substantial Bosnian population – he wanted to shy away from the city's bad rap and instead show it as a community worth celebrating.
Ruff echoed much of Ousley's sentiment in regard to what he wanted to convey with the comic's artwork.
Having been exposed to St. Louis so much as a child, it was very important for him to capture city landmarks and architecture faithfully so locals might be able to recognize where certain scenes take place.
Ruff also spoke to his satisfaction with the story's Black protagonists, pointing out comics have long had issues with diversity – though the situation has improved in recent years.
Ruff described the overall experience of doing art for this and other comics from the fun of drawing more grotesque subjects in "The Atonement Bell" to the satisfaction of finally being in a financial position to draw comics full-time.
Ruff also discussed some of the highs and lows of illustration and writing, with exceptionally bad, unproductive days hopefully balanced out by days where he feels like he's at the top of his game.
Of course, another major source of satisfaction for him is getting to hear from readers.
"One of my favorite things is getting to hear from people who actually have read it and enjoyed the work," Ruff said. "There's nothing better than having some kid come up to you at a table and be like 'Oh, I read this book, and I love the art, and I'm trying to make comics myself, and I'm trying to base my art off the way you do yours.' That is a huge compliment."
This week, "The Atonement Bell" is pitted against four other books in the best new series category: "Love Everlasting," "Public Domain," "Star Trek" and "Traveling to Mars."
Ousley stressed it's an honor just for the story to be nominated, especially next to a number of other stories he is personally a big fan of.
While he is, perhaps, a bit pessimistic about winning, Ousley has long wondered what it must be like to be nominated for an Eisner.
"It's really true to say that it's a life-changing thing to be nominated," Ousley said. "We'll always be Eisner-nominated Jim and Tyler, and that's a really special feeling."
Ruff is similarly honored for the nomination. He described the fellow nominees as "Meryl Streeps," adding that just being nominated is enough of an honor for him.
"We are in great company, and just being nominated is enough," Ruff said. "It'd be wonderful to win, but I'm incredibly grateful and incredibly honored to have our work recognized among the best that's been put out in the last year and the best in the business."
Beyond the announcement coming this Friday, both Ousley and Ruff have projects they're looking forward to in the future.
Ousley said that while the story of "The Atonement Bell" is over, he has contemplated using some of the characters in a separate story.
He also expressed enthusiasm at the possibility of working together with Ruff on future projects.
Ruff said he's still hard at work on "The Unforgiven," which has been running since 2012 and will soon be releasing its 18th issue.
He's also got a new comic still in development called "Port-A-Cath," which he described as the story of a young girl diagnosed with terminal cancer, transported to another world and forced to choose between possible immortality and her home.
"The Atonement Bell" is currently available as a paperback at major retailers, though Ruff expressed a preference for readers to support their local comic stores.
The book is also available at Morrison-Talbott Library in Waterloo.