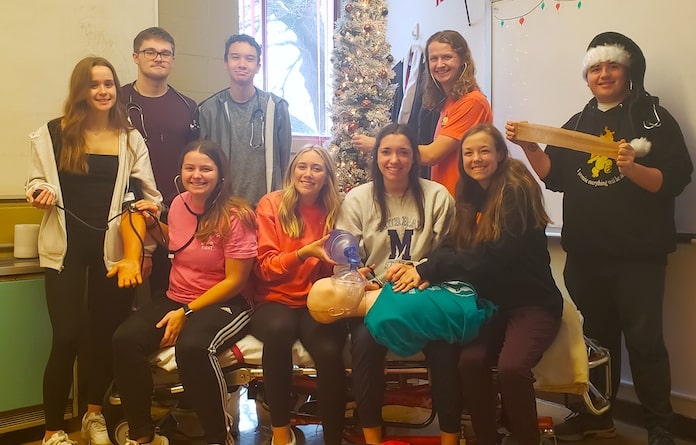 Gibault Catholic High School has made a unique, safety-focused addition to its curriculum over the past year.
A new Emergency Medical Relief class headed by David Schauer – who also serves as an English teacher – allows Gibault students to gain a familiarity with emergency first aid.
Schauer said he has been an instructor since 2010, teaching at a few high schools and community colleges. He also worked in the English department at Southeast Missouri State University for a time.
While he was a teacher, Schauer also worked as an EMT in Belleville. Now in his third year at Gibault, he's found a way to bring those two experiences together.
"During that time, I also worked as an EMT in Belleville and East St. Louis, so I have some experience in that side too," Schauer said. "I'm kind of combining both careers into one space."
Schauer originally took note of the lack of a school nurse when he first arrived at Gibault, taking on some of those responsibilities as he could when the need arose.
"Kids get hurt in the gym or whatever, and we don't have anything," Schauer said. "So I just kinda started helping kids, and with my background I started bandaging boo-boos and ankles and stuff, and then all of a sudden the administration came to me and asked 'Can we make this a class? You wanna make this a thing?' and then it just kind of started snowballing."
This is the first full year Schauer and Gibault are offering the EMR class, which is a dual credit course with Southwestern Illinois College.
While the course would usually last only a semester in college, Schauer said he wanted to stretch the class out to a full year to give him and the students more time to cover hands-on material in class.
The course is only available to seniors, with nine students currently taking it. Schauer noted that figure is rather respectable given the small size of this year's senior class.
Schauer said the goal of the class is to train students as emergency medical responders – the lowest level of emergency care behind emergency medical technician and paramedic.
He summarized the class as "advanced first aid." Students get familiarized with a variety of emergency situations and trauma events like car crashes while also being taught about medical care covering such situations as allergic reactions, shock and cardiac arrest.
Schauer said a key focus for the class is giving the students tangible examples of how they would use the material outside of class as teens and young adults.
He offered the example of someone collapsing due to a heart attack at a basketball game.
The course has received a positive reception at Gibault, with interim principal Mike Kish speaking highly of Schauer both for his work in the classroom and for what he's done for student safety and health.
"Gibault may not have a nurse in the building, but we do have a certified EMT if a need arises," Kish said. "We are grateful to Mr. Schauer for stepping up and adding this popular course for our students. Knowledge gained equals lives saved."
Students currently taking the class also offered their thoughts on what the course has offered them, with some like Trey Fabie emphasizing their newfound ability to help take care of others.
"I think this class is very important because of the value of life," Fabie said. "Life cannot have a price. Having the knowledge to give a person a chance to live outweighs anything else I've learned in school."
That sentiment was shared by other Gibault students like Maria Biske, who also praised the involved nature of the class.
"I feel safer knowing I am prepared for medical emergencies," Biske said. "Mr. Schauer makes the class engaging and fun while also giving us all the tools and information we need."
Schauer said the class consists of basic medical knowledge that's good for anyone to know. He added that the class will hopefully provide a good foundation for any students hoping to go into the medical field in the future.
Schauer also spoke to the shortage of workers in the EMT field locally and nationally, emphasizing the importance of being able to adequately staff local ambulances.
The teacher said he expects a substantial class next year with more students already interested in taking that first step into medical care.
"I know there's strong interest next year," Schauer said. "So, it's starting to snowball. It's starting to build, especially with the students who are looking at going into nursing or being a doctor or going into the medical field. This is an early step one into that world."