Large Columbia sports complex planned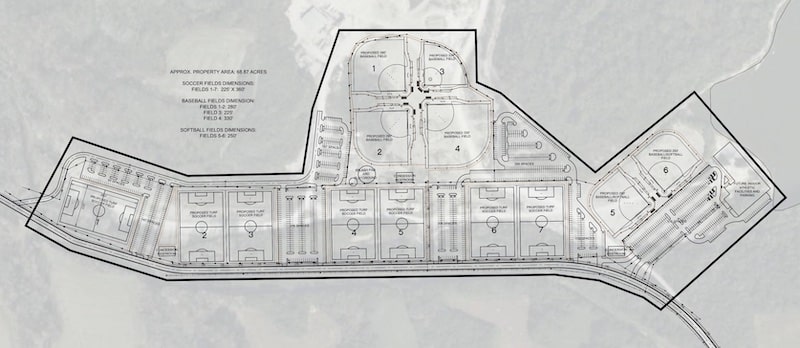 While very much in the preliminary stages, local developer Joe Koppeis on Friday confirmed with the Republic-Times plans to build a large sports complex which would include several soccer and baseball fields in the unused portion of quarry property off Columbia Quarry Road and Bluffside Road.
The proposed sports complex would cover about 65 acres and is similar in design to the O'Fallon Family Sports Park that opened in 2017. 
Koppeis, who is fronting funds for engineering and surveying work, said the future of this proposed complex is likely contingent on passage of the home rule referendum on the April 4 ballot for Columbia voters.
He pointed out that other large sports complexes in the area – such as the one in O'Fallon and Plummer Family Park in Edwardsville – are located within home rule municipalities.
Both cities are automatically granted home rule status as municipalities due to a residential population over 25,000.
Koppeis said the hotel/motel and restaurant tax revenues generated by patrons of those complexes provide needed funds to pay down accompanying debt.
"Youth sports teams and their families stay in the hotels and eat at those restaurants, resulting in plenty of revenue generated," Koppeis said, also noting "It would be great if (Columbia) could have a nice place to serve the community needs and bring in revenue from outside. We don't draw many people from Missouri over here (for sporting events)."
Conversely, Koppeis noted many young Columbia residents travel to Missouri and elsewhere for sports, resulting in revenue for other cities.
Columbia City Administrator Doug Brimm confirmed the city has been in talks with Koppeis regarding a sports complex, though stressing the preliminary nature of said proposal.
Brimm said the city "has not had any discussions" with (the proposed site's current owner Frank "Sam" Beelman) regarding his willingness to enter into any agreements pertaining to the most crucial component: land."
Meanwhile, Koppeis has.
"Beelman is working with us to try to assist" with the sports complex becoming a reality, Koppeis said, adding Beelman is considering leasing or donating the portion of land at the quarry that is unused. This land is currently zoned for industrial use.
"That property is very valuable to (Beelman)," Koppeis continued, also saying he feels "confident that we'll work something out that's great for the city."
Koppeis suggested the sports complex would be owned by the City of Columbia, aided by potential increase of home rule tax revenue helping to aid construction and operation.
"I will not and have not made any money on the project. I just feel it will be great for our community for generations and add a quality of life for the entire community," Koppeis wrote in a follow-up email to the Republic-Times.
Also as part of this project, Koppeis said road improvements – possibly a connector – for easier access from Route 158 would likely be needed.
Brimm said the complex would "likely be a public-private partnership with details regarding ownership/management to be determined," but only "if it is found to be feasible."
While the project is still in its infancy, Brimm said he sees value in such a sports complex for Columbia. He reported the city has been working with the Monroe County Economic Development Corporation to develop a feasibility study for the proposed sports complex.
"If the city had something of this nature set in stone, it would certainly be front and center of the (home rule) informational campaign, as it would bolster revenues" allowed through proposed home rule sales tax, food/beverage tax and hotel/motel tax," he said.
Brimm elaborated on benefits the passage of the home rule referendum would potentially generate for Columbia residents, saying a new development like the proposed complex would complement the city's goal of growing Columbia's commercial tax base and generating more revenue from non-residents.
"Home rule will assist the city achieve its overall economic development strategy of focusing on hospitality, entertainment and tourism/recreation as identified as the ideal direction by our community in our engagement sessions (during last year's comprehensive planning process), all while ensuring the city can continue the downward trend our property owners have seen on the city's portion of their property tax bills," Brimm contended.
While the Hampton Inn on Admiral Trost Drive is the only hotel currently operating in Columbia, Brimm alluded to plans for additional hotel space in Columbia at the Main Street Abbey complex and a new hotel being planned on the 11 South property.
Koppeis confirmed his intention to build a Holiday Inn Express at his 11 South development.
He recently purchased a Holiday Inn at Watson Road and Lindbergh and said renovations there should be complete by this fall.
The Columbia hotel project would start to take shape after that, he said.
"I'm going to build a hotel here in Columbia, home rule or not," Koppeis said.
He's also planning to build a hotel in Fenton, Mo.
"It does stand to reason that the Hampton Inn and proposed hotel on 11 South would certainly benefit from having a regional destination nearby as demonstrated by significant commercial growth around the Green Mount Road interchange resulting from the O'Fallon Family Sports Complex, and Rantoul (Family Sports Complex) adjacent to Interstate 57," Brimm said. "In addition, our existing business community would undoubtedly benefit from an even greater influx of potential customers."
Brimm also said the complex could be pursued if home rule doesn't pass, as "the city's current hotel/motel tax receipts would be more than sufficient to cover debt service," but emphasized the extra revenue home rule could produce would help fund future goals for Columbia's growth.
"Home rule does certainly enhance the city's ability to embark on an initiative of this nature to 'check off' one of the community wants through the financing options available only to home rule units (such as the ability to access 20-year rather than 40-year bond terms)," Brimm said.
"Furthermore, in a recent study, the city currently has the 10th lowest (water and sewer) utility rates out of 43 area municipalities. Using the revenue streams made possible through home rule, the amount rates will increase as a result of the state-mandated sewer treatment plant will be significantly minimized," Brimm continued. "These revenues would also absorb costs of expanding city utilities" to develop areas to reach new areas around Columbia, specifically Route 3 south of Gall Road, into St. Clair County and along Bluff Road into the Bottoms.
"The Route 3 corridor poses the greatest potential, especially with the frontage likely seeing high demand for commercial development," Brimm concluded.
Brimm also said home rule would incentivize commercial interest in Columbia without necessitating "big box development," referring to nearby commercial areas which contain numerous large retail store buildings. He also said the city intends to establish a "start-up/entrepreneurial assistance program" to help foster small businesses in Columbia.
Home rule "broadens the city's arsenal for spurring economic development," Brimm continued, explaining future tax increment financing districts or business district mechanisms are unlikely to be available to Columbia for something like the proposed sports complex.
"These tools both require findings of blight, high unemployment, etc., to implement. Fortunately, those factors are mostly non-existent in our community," he noted.
For a sports complex or other future endeavors, Brimm explained home rule would allow Columbia to enter into certain development agreements, enabling more flexibility in working with investors to bring businesses to the city.
Brimm cited the Columbia Crossing retail development proposal, which was ultimately nixed in 2008 when a judge ruled the city did not have legal standing to enter into an agreement with a developer in that case due to Columbia being a non-home rule unit.
Brimm emphatically expressed the onus of progress in Columbia would still be on elected officials if the home rule referendum were to pass.
"Nothing will change" just from the referendum passing, Brimm explained, pointing out the proposed home rule taxes and other potential development agreement would still need to be implemented by vote in an open meeting of the city council.
He also noted if Columbia adopts home rule, it is not necessarily permanent.
Brimm explained aldermen may pass a resolution at any time to introduce a referendum to remove home rule status. Furthermore, Brimm said a referendum would automatically be placed on a ballot if a petition requesting home rule removal were signed by 8 percent of the number of residents who voted in the most recent gubernatorial election.
As far as the sports complex is concerned, Brimm says the city will handle it as they handle all business.
"Any project of this nature would be scrutinized by city council and (City of Columbia) staff tremendously to ensure it is an appropriate usage of public tax dollars; hence the preliminary engagement of (the Monroe County Economic Development Corporation) on a feasibility/economic impact study," Brimm said.
Opposition to the home rule referendum has been spearheaded mostly by state and local realtors associations, claiming home rule will give the city too much power to increase taxes and will negatively impact local business and homeowners.
In addition to the potential for abuse of taxing abilities, Illinois Realtors representative Ron Deedrick spoke to Columbia voters during a recent town hall meeting, pointing out several upstate home rule municipalities who have used the power to implement gun control policies.
Koppeis countered that argument by saying "the realtors should want growth."