Lakers win thrilling Midsummer Classic final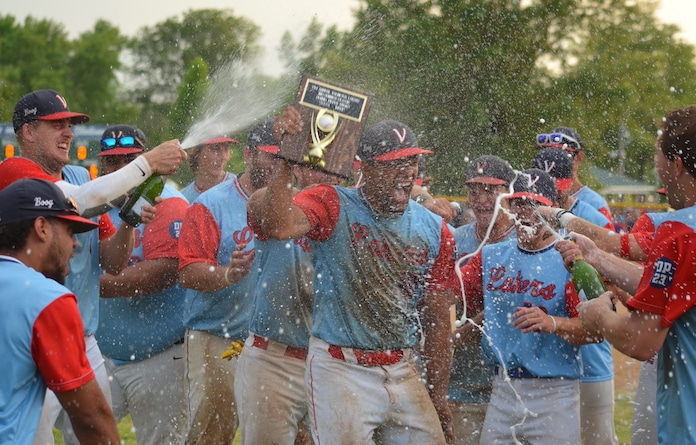 Fifty years since their first and 20 years to the day they won their last, the Valmeyer Lakers pulled out an exciting 6-5 victory on July 4 to once again capture the 2023 Valmeyer Midsummer Classic championship before a large crowd at Borsch Park.
The Lakers, who lead the Mon-Clair League regular season standings at 15-2, battled a surprising Edwardsville Stags team managed by former Lakers player AJ Skaer and coached by former Lakers pitcher Justin Lilly.
Kenny Otero got the scoring started for Valmeyer with an RBI single in the top of the first inning.
Starting for the Lakers was hard-throwing righty all-stater Dom Voegele, who led the Columbia High School baseball squad to a state runner-up finish this spring. He was impressive early, but the Lakers missed a golden opportunity for further run support in the second inning. After loading the bases with no outs, the Lakers failed to score – thanks largely to a Stags double play.
Edwardsville got on the board in the bottom of the fourth inning, with key hits by James Simms and JB Biermann part of a three-run rally.
With the score still 3-1 in favor of the Stags, Tim Reinholz came on in relief of Voegele in the sixth inning and somehow wriggled out of a bases loaded jam.
With the game getting late, the Lakers mounted a rally of their own.
Jonah James led off the top of the seventh inning with a single and stole second. Trevor Davis walked, and then Voegele reached on a bunt single. A single by Otero scored one, but another Lakers runner was called out at home. Adrian Martinez was hit by a pitch and Matt "Big Diesel" Helm drew a walk, tying the score at 3-3.
Then it was all-state Waterloo High School graduate Evan Davis coming through with a two-run single that gave Valmeyer a 5-3 edge.
Edwardsville looked to be in business in its half of the seventh. With runners on first and second with two outs and Simms at the dish, the Stags tried a double steal. Valmeyer catcher Mark Nappier noticed the trailing baserunner got a late jump, however, and threw down to second for the third out.
Another leadoff single by James started the eighth inning, and the Lakers turned that into a run thanks to an RBI single by Adrian Martinez.
But the Stags weren't done just yet. They loaded the bases off Lakers reliever Manny Martinez, prompting a pitching change to Otero. Reid Hendrickson greeted him with a two-RBI single that cut Valmeyer's lead to 6-5.
Fortunately, the Lakers eliminated further damage.
Clinging to the slim lead, Otero was able to slam the door for the save and the Lakers celebrated the tourney title victory with a volley of early fireworks before the larger display was set off more than an hour later.
Otero, who went 4-for-4 with two RBIs and also collected the save in the championship game, was named tourney MVP. For the tournament, he collected nine total hits, drove in four runs, picked up a pitching win and collected two saves.
The victory was extra sweet for Lakers manager Mike McCarthy, who caught in the 2003 tourney title victory for Valmeyer in his final game.
Valmeyer lost in the tourney final last season.
Taking third place in this year's classic were the Belleville Rockies, who downed the St. Louis Spikes by the count of 7-3. The Rockies won last year's tourney.
Other games played July 4 involved the Waterloo Buds. Erik Kaiser threw a no-hitter in Waterloo's 7-1 win to start the day. Up next, Waterloo and Millstadt battled in the consolation final. That game was called with the score tied 5-5 in the sixth inning due to a lightning delay.
Weekend action
Valmeyer continued its home cooking by winning three of four games over the weekend at Borsch Park.
On Saturday, the Lakers won 4-3 in eight innings and 13-3 over Millstadt.
Evan Davis went 3-for-4, and both Helm and Jose Mieses collected two hits for the Lakers in the extra innings victory. Jacob Rowold picked up the pitching win in relief.
Trevor Davis and Helm both homered and Otero went the distance on the mound in the other win over the Green Machine.
On Sunday, Mieses went 2-for-2 with three runs and Manny Martinez struck out nine in a complete game 7-1 win over Cape Girardeau.
The Lakers also lost 10-4 to the Capahas on Sunday despite a three-run homer by Raul Cosme and two hits each by Mieses and Trevor Davis.
Valmeyer travels to Missouri to face the Capahas for two games this Saturday.
Voegele leads Valmeyer in hitting this summer at .548 (17-for-31) with 10 runs and nine RBIs. Other top hitters include Adrian Martinez at .481 (13-for-27) and Trevor Davis at .404 (23-for-57).
Trevor Davis is also faring well on the mound for the Lakers with a 4-0 record and 1.26 ERA in 27 and one-third innings. Other top pitchers for Valmeyer include Otero (3-0, 1.07 ERA) and Jacob Thompson (3-1, 2.01 ERA).
Waterloo is 9-6 in league play after winning three of four games over the weekend.
The Buds split with Edwardsville on Friday, falling 4-2 and winning 6-5. Keegan Baxmeyer smacked three doubles for Waterloo in the victory.
On Sunday, Waterloo won 10-9 and 8-2 over the Spikes. Preston Wright went 3-for-4 for the Buds in the one-run victory. Baxmeyer and Wright collected two hits each in the other win.
Wright leads the Buds in hitting this summer at .571 (16-for-28) with five doubles and six runs.
The top pitchers for Waterloo so far this summer have been Aidan Lougeay at 3-0 with a 1.38 ERA and Kaiser at 1-0 with a 2.33 ERA.
Waterloo hosts the Spikes at 7 p.m. Friday before hosting Belleville for a Sunday afternoon doubleheader.
Millstadt (9-9) will try to bounce back from its doubleheader defeat this past weekend at Valmeyer.
To do that, they'll rely heavily on the Kossina brothers.
Cal Kossina is hitting .472 (25-for-53) with 14 RBIs and 18 runs for Millstadt in addition to being 2-2 with a 1.91 ERA on the mound.
Tony Kossina is hitting .424 (28-for-66) with 23 runs and 11 RBIs.
Joey Kossina is hitting .364 (24-for-66) with 16 runs and 14 RBIs.
The Green Machine hosts Cape Girardeau for a Sunday doubleheader.
All-stars chosen
The Mon-Clair League All-Stars will battle the St. Louis Mens Baseball League All-Stars in an All-Star Game set for 7 p.m. Wednesday, July 19, at Saint Louis University. Admission is free.
Representing the Lakers in this contest will be Trevor Davis, Adrian Martinez, Thompson, Otero and Helm.
Those from the Buds named to the all-star roster are Wright, Kaiser, Lougeay, Baxmeyer and Nate Albrecht (alternate).
From the Green Machine, Tommy Mohan, all three Kossina brothers, and Austin Francis (alternate) and Brian Lupa (alternate) were chosen.
See photos from the championship game by clicking here.
For our earlier article on the earlier rounds of this year's tourney, click here.