Kindness rocks in Waterloo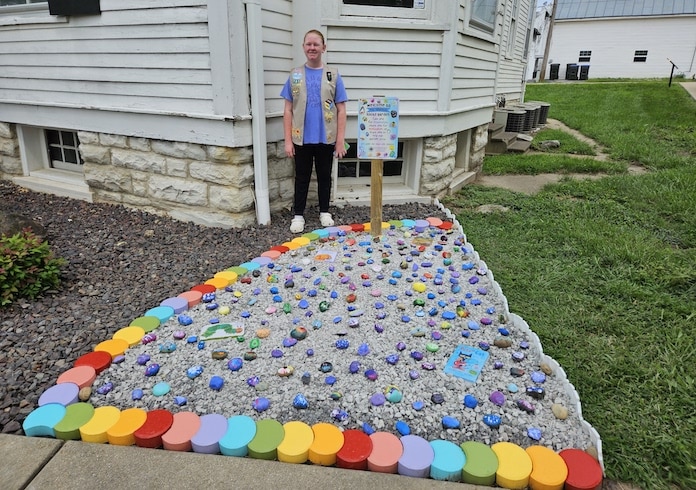 A young Girl Scout is working toward her Silver Award, putting together a colorful project she hopes will help bring some kindness to Waterloo.
Lainey Davis, along with her mother Tiffany, spoke about her project and her time as a scout.
Lainey's been in Girl Scouts since she was in kindergarten. Now in the seventh grade, she recalled some of the time spent with the 10 other girls in her troop over the last few years and noted the friendships she's made are particularly special for her.
"I really have fun doing camp outs with the service unit," Lainey said.
Tiffany further described the benefits her daughter has experienced being a part of her local troop.
"She's been able to experience going to older girl camp outs as well, and she's making friendships with other girls from other towns," Tiffany said. "She's kind of taken on the role as a leader in her troop, her and another girl. They're leading the younger girls. They're really good with younger girls. They've been leading badge workshops, doing all kinds of community service."
Now a Cadette, Lainey is seeking the Silver Award, described by both Tiffany and the official Girl Scouts website as one of the highest awards in scouting.
The award is specifically for Girl Scouts who are in grades 6-8. The main component in earning the award is working for 50 hours toward a project meant to address some specific issue in a scout's community.
Lainey ultimately decided to work on the "Kindness Rocks Garden," a small rock garden outside Morrison-Talbott Library in Waterloo.
The garden features an assortment of rocks painted by Lainey and a number of fellow scouts.
The idea came to Lainey during the height of COVID-19 pandemic quarantine, which she recalled as being a very scary time where she was afraid of getting sick while also missing the friends and family she wasn't able to spend time with.
As rock painting became rather popular during quarantine, she described the first of the painted rocks she encountered around this time, which featured a funny drawing of aliens picking up a stick figure.
Since May, Lainey and her friends have been hard at work, flexing their creativity and painting skills to fill a space outside the library with dozens of colorful rocks.
Lainey was also able to get some donations from local businesses, with a small sign from DE Signs marking the garden and a collection of supplies from Home Depot.
It's a process that, according to Lainey, has been pleasant aside from the heat that they had to suffer through during the last push to finish things up just before school.
"It was fun, but the only thing that wasn't the most fun was the hot weather," Lainey said.
The whole purpose for the rock garden is to bring a little kindness to the community. Along with bright colors, each of the rocks is marked with a simple kind word intended to make someone's day a little better.
"She wanted to keep spreading that kindness because I know we got a lot of issues going on in Waterloo, and she hears about it through school," Tiffany said. "She just wanted to create a place where everybody can feel welcome and come if they need a kind word and be lifted up. She loves colors, she loves crafting, so she immediately knew she wanted it to be as colorful as possible."
Locals and visitors are encouraged to enjoy the sight of the garden while also interacting with it as they like, taking a rock if they need it and leaving a rock that they've decorated themselves.
Tiffany and Lainey mentioned they had shared rocks and paints with the library precisely so folks can contribute their own creativity to the garden.
Overall, Lainey emphasized she hopes people get a little bit of kindness and joy from her efforts.
"I want my garden to help people feel happy," Lainey said. "I want them to see rocks with kind sayings on them and brighten their day. There is a lot of negativity, and I hope my garden changes that a little bit."