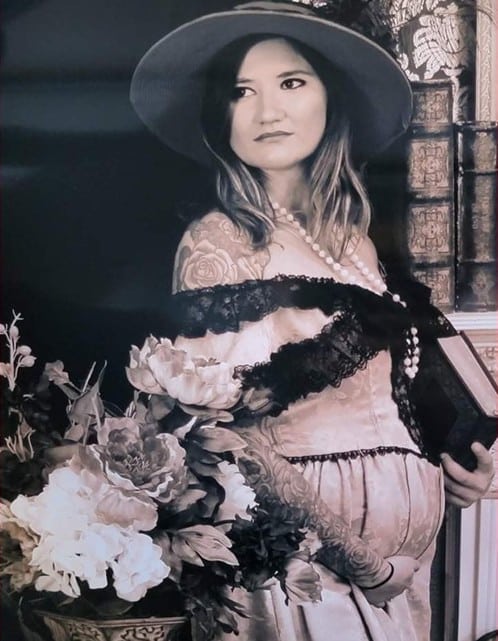 After a Columbia High School alumna and her unborn child were struck and killed while working a job for the Missouri Department of Transportation, their family started a nonprofit in their memory.
The Kait's Love for Jaxx foundation carries on its namesake Kaitlyn Anderson's legacy of being helpful and kind-hearted through helping mothers and children in a multitude of ways, from care packages to bracelets alerting first responders a woman is pregnant.
Anderson's mother and the foundation's president Tonya Musskopf explained she realized the latter's importance after she lost her daughter and grandchild at the same time.
Anderson, 25, and fellow MoDOT employee James Brooks, 58, along with a third employee, were struck by a car while performing striping operations Nov. 18 on Telegraph Road over I-255. Anderson and Brooks died and the third employee was seriously injured.
"Unfortunately at the crash site (first responders) were unaware that Kaitlyn was pregnant, so they checked her and pronounced her dead … they didn't even check for Jaxx because they didn't know," Musskopf said. "That immediately made me realize that pregnant women need to wear a medical alert bracelet to let first responders know 'I'm pregnant' just in case they can't speak because Kaitlyn's whole crew was out, none of them could say she was pregnant."
While the bracelets shipped out so far have varied in color, they both clearly spell out "I am pregnant."
Following multiple miscarriages, Anderson learned she was pregnant with a healthy baby boy, Jaxx. Babies like Jaxx who come after their mother has lost others through miscarriages, still birth or infant loss are often called "rainbow babies."
"If the mother has already suffered losing a pregnancy, the rainbow baby is the rainbow after the storm," Musskopf explained. "So, Jaxx was ours and I wanted to honor Jaxx, and the only way I could think of was sending rainbow babies gifts from him."
In this purple sack – purple because it was Anderson's favorite color – items are selected to reflect the child's age and gender, but often include onesies, blankets, stuffed animals, toys and more. This, Musskopf said, reflects her daughter's excitement for the arrival of her own rainbow baby.
The foundation also sends purple "You Are Not Alone" sacks to those who have lost a parent, child or pregnancy. Musskopf said these contain a cross, grief book, candle and a crystal angel or butterfly, which represents an angel being near.
Musskopf said given Anderson had grieved the loss of multiple pregnancies and she herself is grieving Anderson, providing this support is especially rewarding.
"It makes my heart feel good knowing that we are giving a grieving mother just some compassion to let her know that she's not alone because as a grieving mom, nobody understands unless they lost a child. Knowing that Kaitlyn was so excited for her rainbow baby Jaxx, it is special to my heart to let the moms who have suffered and wanted the baby so bad and had loss (know they're supported)," Musskopf said.
Musskopf said the foundation is working on partnering with a counselor that she will be able to connect these mothers with, but for now she is available to lend a listening ear to those who message the foundation's Facebook page.
Those needing a medical alert bracelet, "You are Not Alone" sack or "For This Child We Have Prayed" sack for themselves or a loved one can apply at kaitsloveforjaxx.org.
Each year, the foundation will host a baby drive, where they will collect baby supplies for St. Louis Crisis Nursery.
The first drive was held at the beginning of 2022 when Anderson's family held a drive-thru baby shower of sorts for Anderson. On this date, the community flooded the streets with supplies all to be donated to the nursery.
"We already had the baby shower planned and with Jaxx being my first grandchild I had already personally bought so much that I couldn't return it, and my heart just told me to give it to babies who need it," Musskopf said. "It turned out beautiful and the crisis nursery was extremely thankful. The amount of items was tremendous, the support the community gave us meant a lot to our family."
At 9:30 a.m. Saturday, May 14, the foundation will host its inaugural Slow Down and Move Over Walk fundraiser at Arnold City Park in Arnold, Mo. Those who cannot make the event can sign up to walk from home. In order to secure a T-shirt that says "Slow down and move over," Musskopf recommends registering early on the foundation's website.
Those who donate $500 or more can achieve "Kaitlyn's Hero" status.
"People have to realize in construction zones, with tow trucks or even when the police have somebody pulled over, they have to move over and slow down, because Kaitlyn and Jaxx's lives mattered, just like the other 159 MoDOT workers that lost their lives," she said. "My goal is to spread awareness to slow down and move over. That's the purpose of the walk."
Recently, SB1188, also known as Kaitlyn's Law, was introduced in memory of Anderson, her unborn son and her coworker who were killed alongside her.
If passed, Kaitlyn's Law would allow individuals to seek punitive damages if they are injured or killed when a public entity violates safety rules.
"I think she would be extremely proud because she was a giver and her heart was big. She never said 'no' to anyone, and she would want no child to go without. I'm pretty sure she's smiling down from heaven," Musskopf said of the foundation and the family's efforts.
For more information on Kait's Love for Jaxx, visit kaitsloveforjaxx.org or the Kait's Love For Jaxx Foundation's Facebook page.